No. 10: The Source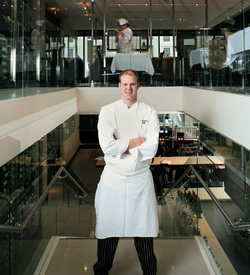 Cuisine: A Wolfgang Puck–inspired take on Asian fusion, which means bigger, bolder flavors than you'd expect to find in Asian cooking, executed with a deftness that could convince you the master chef himself was in the kitchen.
Mood: From the hostesses in short black cocktail dresses to the rock soundtrack—a blast of Steppenwolf with your shu mai?—the airy space may convince you that you've wandered into a stylish LA party.
Best for: A no-expenses-spared night of glamour or a comparatively simple meal of dumplings, crispy whole fish, and other Chinese treats—the best Chinese cooking in Washington.
Best dishes: Dumplings stuffed with braised pork belly and swabbed with black vinegar; potstickers of mushroom and chicken; crispy suckling pig with plum purée; shrimp-and-scallop shu mai with lobster sauce; Indian-style Arctic char with cardamom raita; the best lamb chop in the area, double-cut, expertly seared with an Asian glaze, and sauced with a chili-mint vinaigrette; wok-fried whole sea bass, crisp on the outside, creamy within; chocolate truffle cake with masala-spiced chai ice cream; apple-almond crumble.
Insider tips: You can order from both the upstairs menu and the bar menu in the downstairs lounge, which means you can fashion a meal from exquisite pan-Asian cooking and elegant junk food. The bar menu is a little cheaper.
Service: *** (three stars).
Open Monday through Friday for lunch and dinner, Saturday for dinner.