No. 2: Citronelle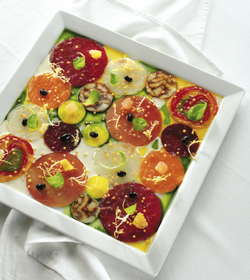 Cuisine: Michel Richard's dazzling reinterpretation of French cooking puts the hoot in haute cuisine. Elevating fun over formality, and with a masterly command of technique, he creates a gastronomic experience unrivaled in the area: dinner as theater, from sleights of hand—an "egg symphony" of four tastes that includes not a single egg—to stunning trompe l'oeil, as in a "stained glass" of raw fish. Amid all the play, though, lies a sturdy classicism.
Mood: An open kitchen is the centerpiece of the multitiered space. A seat at Richard's long chef's table provides an up-close view of the brigade of toque-wearing chefs circling about. The subterranean dining room is somewhat dated, as are the dark-suited waiters.
Best for: Foodies who think they've eaten everything.
Best dishes: Abalone served sashimi style with a rich shallot emulsion; reconstructed oyster-and-clam chowder; sablefish with miso glaze; short ribs for two, the meat deboned and cooked sous-vide for 72 hours, then finished in a searing-hot pan and presented medium rare; loup de mer with black-truffle emulsion; candied apple with caramel ice cream; blueberry cheesecake; chocolate dégustation, a variation on a theme with four different desserts.
Insider tips: Citronelle Lounge—really just a table around the upstairs bar—is a less costly alternative to four-star dining, with some of Richard's greatest hits on the menu, including his take on Chicken McNuggets and the justly famous 72-hour short ribs.
Service: ***½ (three and a half stars).
Open daily for dinner.