No. 13: Central Michel Richard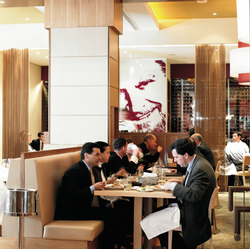 Cuisine: Michel Richard's version of a bistro is a playground for any culinary style, dish, accent, or seasoning that catches his fancy. He and chef Cedric Maupillier turn out gleefully unfaithful renditions of French comfort cooking along with twists on fish and chips and a banana split.
Mood: An oversize portrait of a jolly Richard anchors the far end of the dining room. Tables are side by side, Parisian style, and the crowd is a who's who of Washington, from media mavens to politicos.
Best for: Richard fans who aren't up for the blowout prices at his Georgetown restaurant, Citronelle; New Yorkers; foodies.
Best dishes: House-made, nonalcoholic fruit sodas; duck rillettes and "faux gras" terrine; burrata, a soft Italian cheese, with basil oil and roasted cherry tomatoes; tagliatelle Bolognese; cassoulet; Brussels sprouts with bacon; pearl-pasta risotto with mushrooms; house-made corned-beef sandwich; apple pandowdy; chocolate lava cake.
Insider tips: The kitchen can be uneven, so count on the occasional low amid the highs. Still, it's one of the hottest tickets in town, and reservations (made well in advance) are needed. At lunch, the corned-beef sandwich will more than satisfy all who long for a great Jewish deli.
Service: *** (three stars).
Open Monday through Friday for lunch, daily for dinner.
See all of 2009's 100 Best Restaurants