No. 15: Volt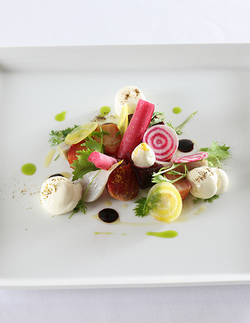 Cuisine: Returning to his hometown of Frederick to open a restaurant in a renovated mansion, former Charlie Palmer Steak chef Bryan Voltaggio exchanged a beefhouse aesthetic for modish plates full of artful detail and savor.
Mood: Locals gather in the swanky bar with caramel-leather couches, while the gallerylike dining room fills up with couples and foursomes. The spacious chef's dining room, where tasting menus—five courses $69, seven courses $89—are served, is high-energy, with Voltaggio and his busy staff on view in the open kitchen.
Best for: A celebratory meal; an important date; drinks and nibbles with friends in the lounge; lunch or dinner after shopping in downtown Frederick.
Best dishes: Sweetbreads with caper powder; yellowfin-tuna tartare with drizzles of chili oil; oysters on wheat-beer sorbet; an old fashioned with house-made bitters and muddled cherries; butter-poached Maine lobster; lamb loin with merguez sausage, lentils, and mustard greens; chocolate-hazelnut pavé with frozen hazelnut custard; "local fall apples," a multipart dessert including apple butter with cinnamon doughnuts and caramel frozen custard.
Insider tips: The $14 bar lunch gets you three picks from a menu that includes an Absolut martini and a grilled lamb burger with bleu cheese. Parking is free in the lot next door on weekends and after 5 weekdays.
Service: *** (three stars).
Open Tuesday through Saturday for lunch and dinner, Sunday for brunch and dinner.
See all of 2009's 100 Best Restaurants.