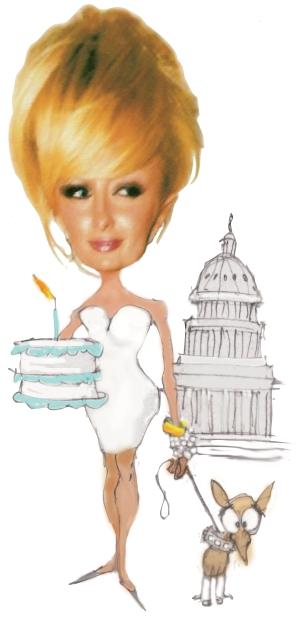 With Hilton Hotels moving its headquarters to Northern Virginia, will Washingtonians be seeing more of Paris Hilton, America's most flamboyant hotel heiress/socialite? Here are ten things it might be fun to see around Washington:
1. The launch of a My New BFF series with Hilton and Nancy Pelosi on MTV.2. Hilton's confused search for shopping at the National Mall.
3. A legislative struggle on the Hill for a Chihuahuas' Bill of Rights, à la Elle Woods in Legally Blonde 2.
4. Hilton lacing up with Alex Ovechkin and "rocking the red" with the Caps; Hilton did play hockey in high school in Connecticut.
5. Endless confusion between the Embassy Row Hilton and Hilton-owned Embassy Suites.
6. The vegetarian activist's anger about the amount of "pork" produced by the federal government each year.
7. Her release of a sultry, new version of "Happy Birthday" for President Obama's big day, August 4; after all, Hilton refers to herself as a modern-day Marilyn Monroe.
8. Her auditioning for a starring role in Verdi's Falstaff at the Washington National Opera.
9. Crowds of paparazzi further tying up M Street traffic in Georgetown every time she goes club hopping.
10. Implementation of the thoughtful and measured environmental-and-energy-reform package outlined in her 2008 presidential candidate video (seetinyurl.com/parispresident).
This article first appeared in the March 2009 issue of The Washingtonian. For more articles from that issue, click here.
More>> Capital Comment Blog | News & Politics | Society Photos