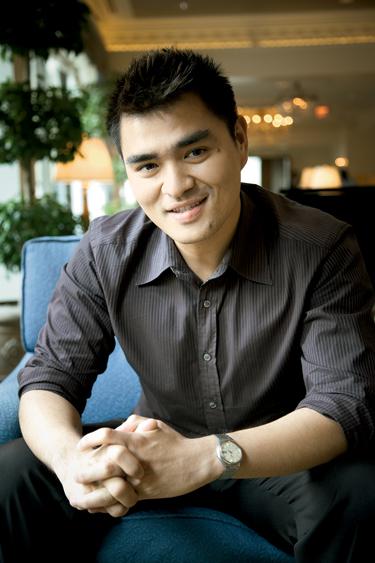 Jose Antonio Vargas was covering the presidential primaries last year in his unusual fashion. You could find his coverage on Facebook, blogs, and video on the Washington Post Web site—and in the newspaper.
Susan Koch was looking for a documentary project; a native of Bethesda, she considers Washington her hometown. Kicking It, her film backed by Ted Leonsis about homeless soccer players around the world, had been well received at the Sundance Film Festival. "I was tired of traveling," she says. "I wanted to make a film about DC."
To find a subject, Koch read. And read. "I kept coming back to stories by Jose," she says, "especially his series about AIDS in DC. He put a face on an epidemic few knew was happening in the capital city."
Koch called Vargas. They connected. Koch wanted to make the people in Vargas's 2006 articles the characters in her film. Vargas saw it as a good extension of his reporting. They hope to finish the documentary, The Other City, by the fall, in time to submit it to film festivals this year.
Working on the AIDS documentary became a fourth job for Vargas. At 28, he just switched from feature writer in the Post's Style section to the National staff, where he is covering the intersection of politics and the Internet. He'll also help coordinate technology coverage across the Post and encourage the paper to use new media.
"I didn't want to take a leave from the paper to work on the film," he says. "We are at such a critical stage of transition and opportunity. What will being a multimedia journalist actually be?"
Vargas, perhaps. A Filipino-American, he grew up in Mountain View, California, best known today as the home of Google. He wrote for his high-school paper, worked as a copy boy at the San Francisco Chronicle, came to DC as a summer intern six years ago. With features by Katharine Boo on Washington's gritty side as a guide, he toured the city. His coverage ranged from social media to video games to AIDS. When a student at Virginia Tech killed 32 people, Vargas used Facebook to contact and interview students as part of the Post's Pulitzer Prize–winning coverage.
"Being a journalist is still fundamentally about storytelling," he says. "We will be using new tools to serve what we do best—tell stories."
Koch described her interest in shooting an AIDS film to Sheila Johnson last January at Sundance. Johnson had backed Kicking It and said, "I want to do this, too."
Vargas and Koch drove to Salamander Farm, Johnson's estate and spa in Middleburg. They met for two hours. "She got it," Vargas says. Johnson now accompanies Koch on shoots.
"We're portraying many inspiring people," Koch says. "Washington is changing and becoming a more hopeful place. This is a very relevant time to be doing this film."
It's also a relevant time to be a multimedia journalist. Having written the articles that inspired the film, Vargas will be in it.
This article is from the March 2009 issue of The Washingtonian. For more articles from the issue, click here.