More Great Home Design
→ 72 Top Remodelers

→ My Bathroom Blunders

→ Good Time to Renovate?

→ Avoiding Trouble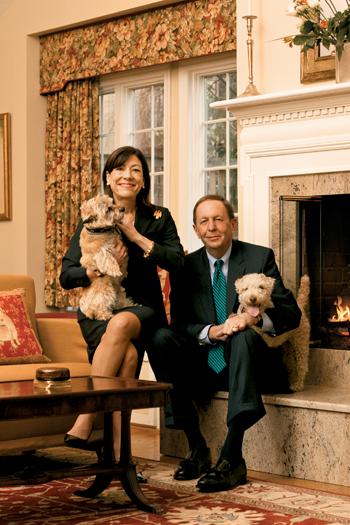 Tom Bulger had already been through five renovations when he and his wife, Diana, a remodeling virgin, decided to blow out the back of their Chevy Chase Colonial. Piece of cake, he thought. Find an architect to plan the two-story addition. Hire a kitchen designer and granite contractor. Pick out appliances, cabinets, and fixtures. Sign lots of checks, eat out often, live amid chaos for months, and then finally revel in a new gourmet kitchen, great room, and master suite.
Despite the lure of early-completion bonuses, the $225,000 "nightmare" was only two-thirds finished six months past the promised date. So the couple—he's a lobbyist, she's director of public relations at the Fairmont hotel in DC—spent another $80,000 on new crews to finish the job. Tom even took time off at the end to haul trash and sweep floors. "I basically was working for my own workers," he says.
But it paid off.
"The night before Thanksgiving, it was finally done, and it looked so beautiful I burst out crying," Diana says. "Tom pulled it together for me because I was freaking out—20 people were coming for dinner the next day.
"I love it, but I never want to go through that again."
Elaine Heumann Gurian and her husband, Dean Anderson, hadn't considered remodeling their split-level rambler in Northern Virginia until fire hit in 2007. From the ashes came a friction-free, creative collaboration to make battle-scarred renovation veterans weep with envy: seasoned carpenters Keith Easter and Bob Henderson of Keystone Contracting in Culpeper; Mark Trone, an Arlington flooring expert who doubled as the homeowners' rep; and DC architect Victoria Kiechel. (Full disclosure: Kiechel redid my condo six years ago.)
Gurian, well versed in the building and design arts after decades working in the museum world, assembled the team quickly using referrals from neighbors and colleagues. For the first six months, she and Anderson lived in a rented house nearby and visited the site daily to make scores of decisions; later they relied on e-mail and on Trone, the flooring expert.
It took one year and $590,000 to craft the eco-friendly, modernist dwelling with curved interior walls, dramatic windows, and quirky details.
"A lot of architects do drawings and walk away because that's all the client has paid for. That leaves problem solving to the contractor," says Easter, who owns Keystone. "But Vicky was so hands-on. I learned tons of different things, like Frank Lloyd Wright designs that I never would have attempted because they require so much shoring and bracing."
Gurian was thrilled: "They all had gorgeous visions, they all started to anticipate each other, they all knew what I liked. It was amazing."
Even happy renovations can be stressful, not to mention expensive, disruptive, dirty, noisy, and subject to the vagaries of weather and bureaucracy.
If the current homebuilding bust has a sunny side, it has been to make renovation more affordable than it's been in years. Consumers, who would rather stay put than risk buying larger new homes, can hire talented help at a discount even as economic jitters have trimmed their wish lists.
"Clients are much more conscious of money," says Tim Burch Jr., the third-generation head of Burch Builders Group in Warrenton. "Two years ago, they would have done it all at once, with the best materials and fixtures. Now they'll do their first and second priorities, like the kitchen and family room, and wait a year or two to add a master suite or redo the lower level."
Price is only one question to ponder. Who is best suited to do your project? Will you live amid the rubble or move out? How do you get the most from your contractor? Cope with stress? Undo a mess? Is there the teeniest chance you're a client from hell?
When do you need an architect, design/build firm, or contractor?
If you're building up or out, moving walls, or rerouting plumbing and wiring, you probably need a licensed architect to draw up the construction and engineering documents required for permits and contracts, says Gwen Biasi of the National Association of the Remodeling Industry (NARI). Some architects have their own construction crews; others do only design but will recommend contractors. Architects charge by the hour or based on a percentage of the project cost.
"The advantage of using an architect is that they are beholden to you, not the builder, and can protect you by seeing construction mistakes you might not recognize," says Donna Greenfield Belser, who has used them on seven residential and two office makeovers. "The last one noticed there was something amiss with the foundation that was to support a three-story addition to our house in Bethesda and caught it very early."
For homeowners seeking the convenience of one-stop shopping, design/build firms do it all—provide drawings by a certified designer or architect, permits, a project manager or general contractor, and subcontractors. One price covers the entire project.
If you're only redoing a kitchen or bathroom, consider choosing a designer who specializes in those spaces. He or she can often steer you to good plumbers, tile setters, and countertop installers.
How do you find a reputable remodeler?
When it comes to choosing a contractor, the advice is tried-and-true: Seek referrals from colleagues, friends, or neighbors; community Web sites and bulletin boards often list reliable companies. Then get three estimates from those most highly recommended, check references, and ask to see photos of their work or visit finished projects.
Ask how many crews a firm has and how many other jobs they're juggling; if your crew is too busy, you could get short shrift.
Then cross your fingers and hope for the best.
When Deedee Jacobsohn, a museum-exhibit consultant in Bethesda, wanted to knock out a wall and open up her kitchen and dining room, she went, she says, with "neighborhood favorites who have a reputation for being on time and on budget." That would be contractor Glen Overstreet, who owns Level Best in Mount Airy, and Rudy Day, co-owner of Watkins Cabinet Co. in Barnesville.
"The workmen were polite," says Jacobsohn. "They cleaned up. They came back to fix a few little things. It was a very easy experience. I love my kitchen."
Ringing endorsements are great, but you should also insist on seeing city or state business licenses and check court records for past or pending lawsuits. Inspect the company's workers'-compensation and liability-insurance documents, and consider increasing your own homeowner's coverage during renovation, advises Angie Hicks, founder of Angie's List, a consumer rating service.
Hicks says to check the Better Business Bureau, Google, and, naturally, her list, which has online links to credit-reporting agencies such as Experian. "If a contractor owes everyone in town, he may be on the verge of bankruptcy," she says.
Make sure you hire a firm that has at least five years' experience doing the type of work you want done. "You don't want someone who builds McMansions to remodel your kitchen," says an electrician in Falls Church. "You want the shoe to fit."
Who needs permits?
The likely answer is you do. Projects involving electrical, plumbing, mechanical, or construction work require those official bits of paper taped to your windows. You get them after the local jurisdiction approves detailed drawings of the site and structure plus engineering, soil-conservation, and even historic-preservation reports.
Deciding to work without permits can be risky and pricey. A government inspector can impose fines, halt work, or in extreme cases order demolition.
Unless you want to be liable for illegal or shoddy work, do not pull permits yourself, says Don Sever of Sever Construction in Oakton. "If the contractor or architect pulls them and something goes wrong, they are responsible," Sever says. "If you pull the permit, it's your problem. It's a red flag if a contractor asks you to do it, because it probably means he's not licensed."
With fewer new building projects being done these days, approval can be quicker than in the past.
"Eighteen months ago, fast track in Montgomery County was a three-week process and the plans sat in a pile. I was in Rockville recently, and the whole process took 90 minutes," says David Merrick, owner of Merrick Design and Build in Kensington and president of the metro DC chapter of NARI.
Permit purgatory can be the hardest part of renovation. Last August, Dana Rooney and her husband, Tim, got a demolition permit right away to start a three-story addition to their home in DC's Palisades. Four months later, they still had no building permit.
"A District zoning engineer made his third round of comments, which the architect is now changing," says Dana Rooney. "So there is a big pit in the back yard where the foundation will go, and it fills with water. We had to get a sump pump to keep the basement dry."
Never mind that Tim Rooney hired an "expediter" to help speed DC's bureaucratic wheels. Such freelance fixers—who the Rooneys' architect, Peter Grina, says charge $400 to $600—are often ex-employees of the offices that okay permit requests.
Writer Julia Watson regrets the summer she "wasted" trying to get approval to gut a century-old Cleveland Park cottage. "Then I paid a guy $1,500, and in 48 hours we were good to go," she says. "Not doing it from the start was truly a false economy."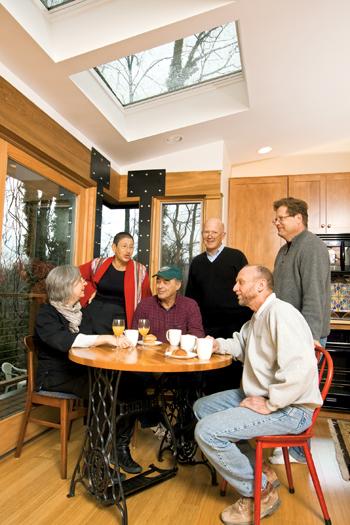 Should you stay or move out?
Contractors prefer working in empty homes, but most people can't afford to leave, however unpleasant the house becomes. Besides, staying has advantages: You can catch errors early and know when your crew actually shows up.
Armed with a level, Tom Bulger made daily inspections to ensure that new walls, floors, counters, and trim were plumb: "I'd write directly on the wall—'good' for the stuff they did right and 'fix this' for whatever was wrong."
Author Bonnie McDaniel of Fairfax has guided her family through four renovations. Her advice? "Always have one room and one bathroom that's a refuge," she says. "If you do the work gradually, a room at a time, you won't have as much stress. In this house, we did my daughter's room and bath first, put a TV in there, and it became the de facto family room. She was in sixth grade at the time and didn't seem to mind. Next we did the living room, so we'd have a bigger place to hang out."
Mikell Belser was a teenager during several parental home renovations. "You could never come downstairs in pajamas or have friends over after school because there were workmen around," she says. "I'm a person who likes order, and there wasn't any."
That may be the least of it.
"I've done projects where people stay in the home, and it can be dangerous," says Burch Builders' Tim Burch. "A parent I was working for had an out-of-control kid who was running around close to an open stairwell." (The area was quickly barricaded.) During Burch's own five-month renovation, he lived with his wife and two children in an RV parked alongside his 1820s home.
"Sleeping around" is what Jackie Quillen, who lives in DC's Burleith neighborhood, calls seven months of nomadic housesitting and houseguesting with her dog. The downside of decamping after putting everything in storage? "I hated not having my home office," she says. "I can't tell you how awful it was not having complete access to my computer, my files, my stationery. If I ever do this again, which I cannot imagine, I'd rent an office, a space I could go to night or day, just large enough for a desk, a bed, and a coffee pot."
The upside? Her empty house was finished a month ahead of schedule.
Why do things take so long?
Because fixtures arrive broken or hardware is discontinued. Torrential rains delay construction. The company goes bust. Contractors, subs, and laborers vanish or are sent to other projects. The contractor underestimates how long it will take. Or homeowners want the low-ball bidder to add extras they rejected earlier from the high bidder.
"If you do your homework and the guy has good references, there is nothing wrong with a low-ball bid," says Keystone's Keith Easter, who, with 34 years' experience, usually lands in the middle. "The lowest bidder is either missing things on purpose or low-balling to get a foot in the door. I might think, 'How did they bid 20 grand less?' I've talked to people who said the low bid ended up costing them more than the original high bid."
As nerves grow jangly, we hope we can cope.
Hairdresser Jamie Simon swapped speed for savings, but it proved a hard tradeoff. He spent $125,000 for a two-story addition to the Olney Colonial he shares with his wife, their two children, a dog, and a friend. He's sure other firms would have charged $300,000 to bump out the back and add a kitchen, family room, and sunroom. "The contractor said it would take four months," he says. "I was prepared for eight, but not the 13 it took."
The project involved moving gas and water lines, extensive electrical work, a kitchen with lots of cabinets and expansive stone surfaces. "He did what he liked to do in every room, but at some point he would lose interest," Simon says. "You have to expect a few surprises and plan for the worst-case scenario." As in when his contractor walked: "We just started paying all the subs ourselves."
How can you speed things along?
Try to make product decisions early, track orders, and have the contractor explain fallback plans: If the windows are delayed, can he work on the fireplace?
Keep the crew close by, says food writer Julia Watson, who cooked her workers a hot lunch every day—which kept them from dawdling at a deli. She also became the "runner," picking up supplies to save expensive contractor time.
Some things, though, are beyond your control—and you'll have to learn to make the best of the situation.
Karen Van Breda Kolff didn't discover for three months that the second part of her Jerusalem-limestone backsplash was never coming because Israel had quit exporting it. When a near match finally arrived from Turkey, the two slabs were cut smaller and set alternately in her Kensington kitchen. Says Kolff: "It looks like it was planned that way."
How do you get by without a kitchen?
Schedule the work for summer, when you can eat outdoors and grill—Bonnie McDaniel learned to bake a perfect pound cake in her Weber. Contractors often will set up a food-prep area using the old cabinets and appliances. A basement, living room, laundry room, bedroom, or carport will do—any space with electricity, a work surface, and, if you're lucky, running water. In tight spaces, you can get by with a microwave or toaster oven, refrigerator, and hot plate.
Wash dishes in a bucket or bathtub or with a garden hose; use disposables where you can. Feed the kids a lot of cold breakfasts, and know that the whole family will ingest scary quantities of junk food and takeout pizza/Chinese/Mexican. Call in social chits by inviting yourself to other people's homes as often as decently possible.
Ellen Kassoff Gray, co-owner with her husband, Todd Gray, of DC's Equinox restaurant, ate many a meal in her back yard. When it turned cold, a spare bedroom became the kitchen/dining area. "I hadn't used a microwave since college, but I discovered all sorts of things you could nuke, like mac and cheese and frozen vegetables in steamer bags," says Gray, whose son, Harrison, was then eight.
Washington Post culture critic Philip Kennicott got creative with a panini maker—perched for months atop the grand piano in his Capitol Hill rowhouse. Nothing beats the puffy mass of grill-ridged eggs he dubbed "the corrugated omelet."
How can you make the job go more smoothly?
Living through a renovation is a job requiring that you be informed, organized, and assertive but not obnoxious. Write a contract providing regular payouts for finished work, and hold back a chunk at the end to guarantee completion. A builder who has collected nearly all his fee has little incentive to work another few months for a fraction of the total.
Prioritize, and defend to the end, those three or four things that matter most to you. Pick your battles with your contractor.
When interior designer Ruth Jansson redid her 1925 Sears-kit house in Chevy Chase, she declared the elliptical shape of the new windows nonnegotiable. The contractor got it wrong, and the replacements cost him $12,000: "He knew it was integral to the design of house. I wouldn't back down."
Know that once a contract is signed and you want to change anything, you will pay extra. "While you are at it" can become an extremely costly phrase.
Regular client/builder meetings are important, but e-mail and cell phones are terrific, says architect Jerry Levine, owner of Levine Group Architects & Builders in Silver Spring. "E-mail is tremendous for daily communications because you take care of questions that used to be stored up," he says. "There is also a paper trail for the benefit of the client and the builder."
Tim Burch wants contractors and clients alike to understand the emotional stages of the "remodeling roller coaster": design (excited), plans and permit (emotions dip), breaking ground (excited), framing (all-time-high emotions), subcontractors (low if contractor is a lousy referee), drywall (potentially the most frustrating due to dust and mess), trim (satisfaction growing), and painting/punch list (make or break for projects if the painter is a slob or if the crew won't finish the last pesky details).
Homeowners should treat workers with respect. Remember, you're paying for skills you don't possess.
In the end, Levine hopes clients will think of renovation "like birthing a child: After a while, you forget the pain."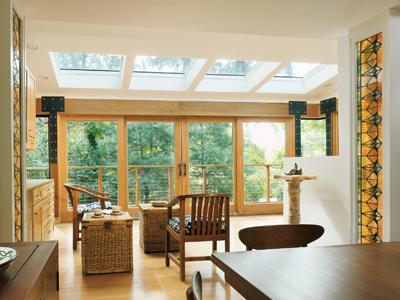 Stressed? Who, Me?
During a renovation, expect to feel threatened, overwhelmed, and financially shaky, says Judith Bernardi, a DC psychotherapist and remodeling veteran. "Remind yourself, 'I chose to do this project, and it will end someday,' " she says. "Try to visualize its completion by pinning a blueprint or a picture of the finished room on a wall."
You might also hit the gym, says Diana Bulger: "When things got bad, I went from one to two visits a week to a trainer, and I got into really good shape. I didn't forget the renovating pain, but the workouts made me feel mentally and physically better."
Realize that renovation can also threaten a relationship.
"I won't work for married couples anymore. Five out of the seven I worked for got divorced," says architect Bill Hecker. "I took a job for a guy in Hawaii because he was single. There was no one for him to argue with about chair rails."
Designing a space brings up a lot of issues in partnerships, says Martha Gross, a DC psychologist and two-time renovator. For example: spending priorities, aesthetics, decision-making styles, balance of power.
"Talk to each other like business partners," she says. "List your goals and budget. Assume there will be differences. Go slowly, and discuss a disagreement strategy. If she really wants granite counters, let him decide on the flooring." And try to work it all out before you hire a contractor.
Energy consultant Bob Linden is a modernist who owns a Dupont Circle Victorian. He'd already turned the third floor into a sleek master suite when he married neuroscientist Nancy Desmond in 2005. For her, he made the second floor more 20th than 21st century. "The real shocker was the kitchen," he says. "I wanted to open up the whole first floor from the back wall of the house forward and have everything hang out."
"My idea," says Desmond, "wasn't to open the front door of a house built in the late 1800s and the first things you see are all this stainless steel and dirty dishes in the sink. I wanted it closed off."
Finally, the couple hit upon a Solomonic solution: They would build a compact, conventional kitchen with food-prep and cleanup areas out of sight in a back corner. The rest of the space would be open.
"It was time to move forward," she says, "because I felt Bob was compromising too much, giving up things that were really important to him."
Says Bob: "I wanted to make this a place she loves. It wasn't an intellectual compromise. It was an emotional compromise."
If a contractor does crummy work or bolts, how do you fix the mess?
You've got maximum leverage when the contractor is licensed, says builder Don Sever.
The Virginia Contractor Transaction Recovery Fund and the Maryland Home Improvement Commission's Guaranty Fund—both financed by contractor license fees—can reimburse ripped-off homeowners up to certain limits. Neither fund covers unlicensed remodelers, and the District doesn't have one at all.
"It takes a while to get money back, but it is possible," Sever says. "You can also complain to your local consumer-affairs office; they can take action without the contractor's participation. The state licensing board is another place to complain. It can fine him, suspend his license, or remove it. If your contractor isn't licensed, you're out of luck."
You can sue the contractor, whether licensed or not, although there may be no assets to collect.
If you're Tom Bulger, the "nightmare renovation" survivor who tried several legal remedies, you go spiteful with techno-torture: speed-dialing the no-show contractor and jamming his office and cell-phone lines with "call me" messages. "It was the least I could do," says Bulger, who was long past complaining to the Better Business Bureau, Angie's List, and the neighborhood listserv.
If you're the mother of three young kids whose kitchen renovator accidentally wrecks your heating system one summer and lets it go unfixed into winter, why not bring the kids to the company owner's nice, warm office, make them peanut-butter sandwiches, and vow to stay put until it's repaired? That tactic by former Washington Post restaurant critic Phyllis Richman got instant action back in the '70s: space heaters for the weekend and a Monday visit from the repairman.
Might you be a client from hell?
Now a word from contractors and architects, who'd like you to know that the customer is not always right. You know who you are.
"The worst kind of customer is the one who wants to micromanage the project," says David Merrick.
Tim Burch's choice: "I hate to say this, but doctors or lawyers. They are so used to having the last word."
"One client sued at the end of a job," says a builder. "The lawyer found out she'd done it to seven other contractors. It was a scam she was running."
Architect Victoria Kiechel's pet peeve: "Someone who is always second-guessing you. They hired you but don't want to take your advice."
"Customers who, toward the end, deliberately try to screw you," says a builder. "I had one who wouldn't pay me the last draw because they'd lost a lot of money in the market and their kid's tuition was due."
"The person who watches you all the time," says retired Arlington contractor Ted Mann. "We can have a few words in the morning or evening, but don't sit there all day. It's like the sign I saw hanging in a lumber yard: 'Our rates are $45 an hour, $55 if you watch, and $65 if you help.' "