Last fall, Heather Massler and Matthew Bratland decided to buy their first home. After years of big price increases, the real-estate market had cooled enough that homeownership in Montgomery County—where they'd both grown up and wanted to put down roots—was finally within reach.
Massler and Bratland found their dream home in February. About three miles from downtown Silver Spring in a neighborhood called Long Branch, the brick house has three bedrooms, one bath, and a small yard.
Massler, an architectural historian, fell for the original windows, fireplace, and oak floors. The seller had recently updated the 1943 Colonial, adding a new roof, installing a new furnace and air-conditioning compressor, and refinishing the floors.
The house hit the market in October for $425,000. By the time Massler, 32, and Bratland, 29, visited four months later, the seller had dropped the asking price to $375,000. After making an initial offer of $360,000, the couple settled on $370,000, with the seller paying about $9,000 toward closing costs and agreeing to repair the electrical and plumbing systems.
"We wouldn't have gotten that kind of deal three years ago," Massler says.
Three years ago, the real-estate market was so hot that open houses in popular areas were overrun with buyers. Bidding wars were common, and many properties sold just days after they were listed.
Today, "for sale" signs can linger in front yards. Sellers are more likely to bargain. And as more foreclosures hit the market, prices continue to slide.
Along with low interest rates and first-time-buyer tax credits, today's slow market is convincing many young people to trade in rentals and buy condos, small houses, or larger fixer-uppers.
Kristen Carson-Owens and her husband, Corey Owens, were tired of paying rent after living in a one-bedroom apartment in Crystal City for three years. "It's frustrating to not have anything to show for the money you spend every month," says Kristen.
Long & Foster agent Roby Thompson says that sales prices have dropped more than rents. "Look back three or four years and there was a huge gap between ownership and renting," he says. "It used to cost significantly more to buy; now it's about the same."
When they began their search last fall, Kristen and Corey had a wish list: a single-family home in the District, close to Metro, that they wouldn't outgrow in just a few years.
Their price range of around $300,000 led them to Fort Totten, an enclave of red-brick rowhouses and garden-style apartments near Catholic University in Northeast DC, where they found a three-bedroom, two-bath rowhouse.
Kristen loved the arched doorways, glass doorknobs, and creaky floors. "I grew up in an old home, so those were the first things I noticed when I walked in," she says.
The house had been on the market for three months when Kristen and Corey, both 25, toured it in December. They offered the list price of $339,900 but asked the seller to cover the closing costs, which came to more than $10,000. Including insurance and property taxes, their monthly mortgage payment is about $600 more than their rent in Arlington.
Says Kristen: "We saw that prices were hovering much closer to our rental payments. It just made more sense."
Buying during an economic slowdown comes with risks. "We're both nervous about it," says Heather Massler. "If one of us gets laid off, it's going to make things very difficult."
There's also the chance that home prices in some areas will continue to fall. To guard against a short-term loss, Kristen and Corey stretched to buy a larger home that they won't have to sell in a few years.
Despite the pitfalls, first-time buyers have an advantage when a real-estate bubble bursts: Unlike those who already own property, they don't have to sell in order to buy.
"We saw the poor economy as an advantage," says Amy Reagan, who with boyfriend Gregory Hill bought a one-bedroom condo in DC's Mount Pleasant for $240,000. Reagan was surprised by how many condos were for sale in their price range of $250,000 to $300,000.
"Our seller had lowered the price a couple of times," says Reagan. "And the same thing was happening with other units we looked at."
The 510-square-foot condo, which has a newly renovated kitchen, had been on the market 90 days when the couple made an offer of $240,000—$40,000 below the original list price—and asked the seller to pay all the closing costs. No one else was bidding, and the seller accepted.
For Reagan, 28, and Hill, 26, who both work for nonprofits, the biggest hurdle was the 10-percent down payment. The couple pooled their savings and sold some stocks to come up with the cash.
"Given our salaries, we didn't think it was feasible for us to buy," says Reagan. "Now I'm encouraging all my friends to look at their finances. It really is possible. "
The growing inventory of foreclosures in exurbs such as Manassas and Ashburn can be a source of deep discounts. Marc Cormier, an agent with Re/Max Allegiance, shifted his real-estate practice to foreclosures and distressed sales when the market dropped last year.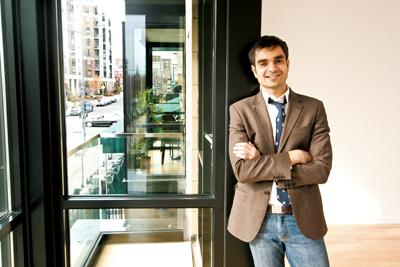 He says the competition for foreclosed properties is fierce. "If I put a property up on Saturday, I'll have multiple offers by Tuesday," says Cormier. "I've sold properties where we haven't even cleared the trash out yet."
Buyers who don't have the time or persistence to hunt down foreclosures are coming up with other resourceful ways to get a foot in the door of a still-expensive market. Charlie Arnold, who works for the Department of Defense, plans to rent out one bedroom in the two-bedroom condo he just bought for $270,000 in Alexandria.
First Savings Mortgage Corporation's Renee Schuster Voyta is seeing more buyers asking their families to help with the down payment. "We've seen a lot of gifts," she says.
Developers of new condo buildings, one of the hardest-hit segments of the market, are offering bargains. The Palladian at Rockville Town Square has a lease-to-own program that lets renters lease an apartment for one year, then get back 75 percent of their rent in the form of a purchaser's credit if they decide to buy in the building.
Khelan Bhatia was surprised to learn that the Moderno on DC's U Street was offering 100-percent financing through a deal with PNC Bank. Bhatia loved the condo building's small size, modern finishes, and floor-to-ceiling windows. And its location—in the heart of the U Street corridor, just a block from the Metro—couldn't be beat.
"With no down payment, I was still able to get a 30-year fixed mortgage," says Bhatia. "It seemed too good to be true."
Where to Look
Established neighborhoods such as Dupont Circle, downtown Bethesda, and Clarendon are perennial favorites with first-time buyers. But we hunted down neighborhoods where you're more likely to find a bargain. These eight areas offer an urban lifestyle that appeals to many first-time buyers. They're neighborhoods where residents can walk to dinner, take Metro or the bus to work, and spend a week without getting in the car. Some are enclaves that saw a rebirth during downtown DC's revival. Others are new town centers that offer city-like living in the suburbs.
Capitol Hill
"Capitol Hill is the new mecca for young people with children," says Long & Foster's Roby Thompson.
Dog owners and moms and dads with strollers congregate in Lincoln Park, Stanton Square, and Folger Park. Eastern Market bustles on weekends. Residents come for flowers, produce, specialty foods, and wares by local artisans. Nightlife includes Hill-staffer standbys Hawk 'n' Dove and the Pour House as well as newer spots like the Ugly Mug and Belga Café on Barracks Row.
Although rowhouses in the historic district command top dollar, buyers can find bargains around RFK Stadium, Congressional Cemetery, and the burgeoning H Street corridor in Northeast.
On the market: Axis Condos, starting at $314,000 (243 15th St., SE; 202-719-9111; theaxiscondos.com); Butterfield House, starting at $319,000 (1020 Pennsylvania Ave. SE; 202-544-0021; butterfieldhouse.com); Jenkins Row, starting at $332,900 (1391 Pennsylvania Ave., SE; 202-546-2922; capitolhillcondo.com).
Columbia Heights/Mount Pleasant
The Columbia Heights Metro station opened in 1999, and since then the surrounding area has exploded with development.
Mount Pleasant's designation as a historic district has helped it retain charm. Mom-and-pop shops like Heller's Bakery and Pfeiffer's Hardware mingle with hipster hangouts like Radius Pizza and Tonic. The housing is mostly single-family homes built in the early 20th century and post–World War I condo and apartment buildings.
To see the renaissance of the last decade, go east of 16th Street to Columbia Heights. Last March, a block-long mall anchored by Target and Best Buy opened. There are dozens of new restaurants and shops, a Giant supermarket, and the repurposed Tivoli Theater.
Although condo hunters will find more options in Columbia Heights, Mount Pleasant has a slew of rowhouses that have been renovated and converted into boutique condos.
On the market: Cityscape on Belmont, starting at $349,900 (1330 Belmont St., NW; 202-232-4441; cityscapeonbelmont.com); Kenyon Square, starting at $363,000 (1390 Kenyon St., NW; 202-332-6477; kenyonsquare.com); Solea, starting at $219,000 (1414 Belmont St., NW; 202-232-2009; solea-dc.com).
Hyattsville
Hyattsville is part of the Prince George's County Gateway Arts District, a government-planned revitalization effort that runs along Route 1 through Mount Rainier, Brentwood, North Brentwood, and Hyattsville.
The area is becoming a magnet for artists. Arts District Hyattsville is a mixed-use community with rowhouses, lofts, and "live/work homes," in which artists and small businesses set up shop in the downstairs of their rowhouses. A former auto showroom has been transformed into a community center with a fitness center and art gallery. Lots of new shops, restaurants, offices, and apartment and condo buildings are clustered around the Green Line's Prince George's Plaza Metro stop.
On the market: Arts District Hyattsville, starting at $369,000 (4424 Longfellow St., Hyattsville; 301-209-0116; eya.com); One Independence Plaza, starting at $214,900 (6506 America Blvd., Hyattsville; 301-779-2290; oneindependencecondos.com).
Rockville
Inspired by the rebirth of downtown Bethesda, Rockville Town Square officially opened in July 2007. The pedestrian-friendly mixed-use development is within walking distance of the Rockville Metro stop and was designed to provide residents with a gathering place in the sprawling Montgomery County suburb. The development is anchored by a new public library. Street-level retail, red-brick sidewalks, benches, and fountains create an urban feel.
An after-work crowd gathers at Gordon Biersch on weekdays. A handful of independent restaurants—including Bobby's Crabcakes and Peruvian eatery La Canela—have set up shop alongside chains such as Austin Grill, Lebanese Taverna, and Five Guys.
On the market: The Palladian at Rockville Town Square, starting in the upper $300,000s (38 Maryland Ave., Rockville; 301-610-6035; rockvilletownsquare.com); the Fitz at Rockville Town Center, starting at $289,000 (501 Hungerford Dr., Rockville; 301-315-8860; thefitzatrockville.com).
Shirlington
The Village at Shirlington is another town center that offers an urban lifestyle in the suburbs. Recent renovations have more than doubled its original one-block size to include a public library, Harris Teeter grocery store, and the acclaimed Signature Theatre.
Dozens of restaurants and shops—from perennially packed American bistro Carlyle to artsy gathering spot Busboys and Poets—are tucked beneath bright awnings. On warm weekend afternoons, the area fills with window shoppers and dog walkers. There's no nearby Metro, but an indoor bus station opened last year and the location right off I-395 makes for an easy commute into DC.
On the market: West Village of Shirlington, starting at $310,000 (4161 S. Four Mile Run, Arlington; 866-208-3976; condosatshirlington.com); the Grove at Arlington, starting at $274,000 (2311 25th St. S., Arlington; 703-892-0555; groveatarlington.com).
Takoma Park/Silver Spring
These adjacent Montgomery County neighborhoods draw a lot of twenty- and thirtysomethings looking for a small-community feel with city convenience.
In downtown Silver Spring, the arrival of Discovery Communications and the AFI Silver Theatre has sparked lots of development, including chains such as Borders, Ann Taylor Loft, and Romano's Macaroni Grill. Takoma Park has more of a funky, independent air, with a quaint main street and small restaurants and shops.
Both are centered around stops on Metro's Red Line and offer a mix of large apartment and condo buildings and older single-family homes.
On the market: National Park Seminary, starting in the low $400,000s (2750 Linden La., Silver Spring; 301-495-7707; nationalparkseminary.com); Takoma Overlook, starting at $109,500 for studios and $169,500 for one-bedrooms (7333 New Hampshire Ave., Takoma Park; 301-434-7333; tenacitycondos.com).
U Street/Logan Circle
During the real-estate boom, the U Street corridor and Logan Circle became proof of downtown DC's renaissance. Today there are theaters, art galleries, clothing boutiques, and a Whole Foods grocery. Trendy bars and restaurants seem to open every month—popular newcomers include chic speakeasy the Gibson and Italian eatery Posto.
Khelan Bhatia, who bought a new condo on U Street in March, was drawn to the neighborhood's unique style: "I really wanted to live in an area with its own identity."
On the market: The Moderno, starting at $346,000 (1939 12th St., NW; 202-637-0102; lovemoderno.com); the Flats at Union Row, starting at $299,900 for studios and $394,900 for one-bedrooms with den (2125 14th St., NW; 202-232-1997; pnhoffman.com); the Lacey, starting at $325,000 (2250 11th St., NW; 202-744-1007; laceydc.com).
Virginia Square/Ballston
The Arlington neighborhoods along Metro's Orange Line are among the region's most sought-after. The three-mile corridor stretches from Rosslyn to Ballston and is lined with apartments, condos, office buildings, bars, restaurants, and shops.
Although ultra-luxury buildings such as the Waterview Residences and the Wooster and Mercer Lofts have risen along the corridor's eastern end, home hunters can still find deals in Virginia Square and Ballston, where new condos mingle with older townhouses and garden-style buildings.
A block from the Virginia Square Metro station are Arlington County's flagship library and Quincy Park's tennis courts and baseball fields. Ballston Common mall has dozens of shops and restaurants, a movie theater, and a health club.
On the market: The Residences at Liberty Center, starting at $350,000 (888 N. Quincy St., Arlington; 703-875-2211; libertycenter.com); the Hawthorn, starting at $524,000 for remaining two-bedrooms (820 N. Pollard St., Arlington; 703-294-6611; monumentrealty.com).
The New Rules of Real Estate
How can I avoid overpaying?
Agents warn against buying in this market if you plan to move soon. "It used to be we'd say to people, 'You can think about selling after three or four years,' " says agent Roselyn Abitbol of Habitat Real Estate. "Now it's five or six."
How much money will I have to put down?
Two years ago, lenders often offered mortgages to buyers without asking them to put any money down. Not anymore.
With a few exceptions, the only way to put down less than 10 percent in today's market is to get a Federal Housing Administration (FHA) loan, which allows a down payment as low as 3.5 percent. FHA mortgages come with an up-front premium of about 1.5 percent of the loan and require that you pay for mortgage insurance, which typically costs about half a percent of the loan per year.
How much should my offer be?
Even though we're in a buyer's market, properties are selling. Agents say one of the biggest mistakes buyers make is alienating the seller by low-balling the original offer.
"The average offer I'm seeing comes in at about 10 percent below the asking price," says Long & Foster agent Roby Thompson. He says sales prices on his properties are averaging between 3 and 5 percent below list price, though some properties do sell for much less, especially if they've been on the market a long time.
Should I look into adjustable-rate financing?
Adjustable-rate mortgages, or ARMs, were popular during the boom, when prices were climbing and buyers thought they could resell their homes before their payments increased.
Now prices have leveled off and most ARMs no longer offer a lower initial rate than 30-year fixed mortgages, so buyers have no incentive to take that risk.
This article first appeared in the May 2009 issue of The Washingtonian. For more articles from that issue, click here.