We've known for years that Washington is a great place to live, so it's nice to see that MTV is finally paying attention. The Real World: DC gets cameras rolling for its 23rd season in the Dupont Circle area this month, and the arrival of seven meticulously selected strangers has the neighborhood abuzz with anticipation. Here's what happens when locals stop being polite and start getting real about the MTV invasion.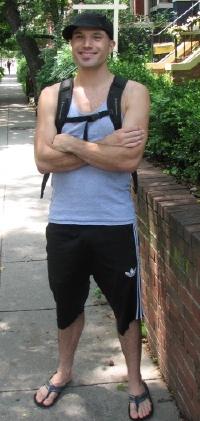 Adam, a yoga instructor in the Dupont area.

A lot of people believe the Real World filming is responsible for putting Austin, Texas, on the cultural map. By setting up shop at 20th and S, do you think MTV is going to help or hurt the capital?
"Oh, I don't know about that—DC doesn't seem like a neglected child. I don't think it's really good or bad."
When you're thinking about going out, will the Real World: DC cast sway your nightlife decisions?
"I wouldn't go to a bar if they were there, but I also wouldn't leave one if they came. If I meet any of them though, I'm going to ask them to sign my chest," he laughs. Adam's attractive twentysomething friend Joe, whom we also spoke with, is also "definitely not complaining" about the incoming female Real Worlders.
How do you think your fellow Washingtonians feel about the upcoming season?
"Overall, I don't think they care too much. The old people are probably thinking, 'Damn! There goes the neighborhood.' The young people are just probably thinking, 'I hope I get to sleep with someone on camera.'"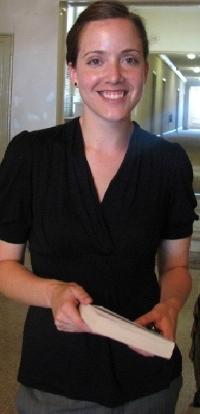 Laura, a 24-year-old Georgetown architecture-firm employee, moved to the President Madison apartment complex—right across the street—just two weeks before her new neighbors.

Are you excited or hesitant about sharing the block with the Real World crew?
"Overall, I'd prefer if they weren't here, but my life will go on. The idea of cameras doesn't bother me, but if I'm going out, I'm going to be pissed if I have to sign paperwork to get into my regular bars and grocery store. And the groupies, the hassles, and everything will probably interfere. Lots of my friends are excited though. They keep saying, 'I'm coming to stay with you!' "
MTV has traditionally provided the cast with some form of employment while they're on the show. Any predictions concerning their professional endeavors in DC?
"Not a clue. There's no way it could be serious political work, so I really can't say what."
How do you think the cast will cope with their new home? Does it bother you that they'll probably all be out-of-towners?
"Nope. These kids will probably have friends in DC—everyone has friends in DC. Someone has to show them the ropes."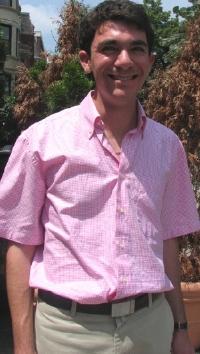 Claremont McKenna student David Nahmias, 21, is about as new to the area as the cast of the show. While interning at the Center for Democracy in the Americas (CDA), a mere 250 feet south of the house, he plans on sharing his summer weekdays with cameras, curious tourists, and perhaps the occasional made-for-TV street argument.
How do you think the impending MTV addition will change the neighborhood?
"It's going to add a lot of hilarity and be a good distraction. Dupont Circle is an interesting location choice—it's diverse as it is, so adding seven 'diverse' people makes sense. Adams Morgan might have made more sense—Dupont is kind of the backstreets. It's a super-nice house though. I just hope they don't take over our Safeway."

If word gets out that the cast is headed for a specific bar Saturday night, would you make it a point to follow?
"I don't even watch The Real World. I can count on three fingers the number of times I've seen it, but I totally would go! Just for the story. I'm looking forward to Apex night."

Where do you think the cast will be working during their stint in DC?
"Oh, definitely not here [at the CDA]! Our office wouldn't take them. There's no tolerance for stupidity in political positions."A friendly, "50-plus" finance worker at the office building a block up gets in on the discussion:
What are your personal feelings on The Real World coming to Washington?
"I'm not wild about wild, wild stuff, but The Real World is all right. When I was young, you probably couldn't pull it off. Generation X? We weren't even alphabet! But it's okay now. The youth makes the world turn—let them go. As long as no one gets shot, no one gets stabbed, it's all fine. Hell, I might even like to peek in."
Glad to see you're open-minded. Do you think the same is true for other residents of the area?
"Nah. It's a trauma to the neighborhood. The [apartment] building across [the street], they don't like confusion. Everyone's uptight. The only excitement I have when I'm here is the birds. Something needs to pick this place up."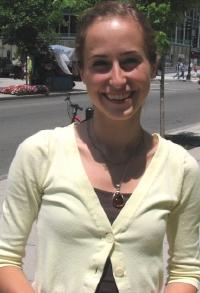 As a Georgetown University undergrad and National Geographic summer intern, Texan Natalie Murchison will more than likely be sharing DC nightlife with the newest batch of local celebrities.
You're a working 21-year-old and student in the city—it's highly probable your path will cross with the Real Worlders at some point. Are you game for making conversation?
"If MTV does a cool job casting, I'd like to get to know the seven people in the spotlight. Yeah, I'd be curious to strike up a conversation. But with a camera in my face, knowing me, I'd clam up and not be able to continue."
Where do you think they'll be employed while the cameras are rolling?
"Would they work for an NGO? Maybe a nonprofit, something policy-related, which would be a good representation of working life in DC."
Any advice for the cast members?
"Take advantage of unique events! Free concerts in Rossyln, movie screenings in the city—there's cool stuff to do here."
What do you think, readers? How do you feel about MTV filming The Real World in DC? Where do you think they'll work? What advice would you offer them? Sound off in the comments below!
More>> Capital Comment Blog | News & Politics | Society Photos