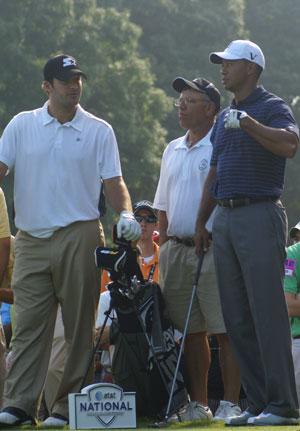 Tiger Woods may have chosen Dallas Cowboys quarterback Tony Romo as his playing partner in today's Pro-Am at the AT&T National, but some of Washington's biggest sports names didn't seem perturbed.
"I'm just here to have fun," said Redskins starting quarterback Jason Campbell when asked if he was going to beat Romo. Campbell, wide receiver Antwaan Randle-El, and Capitals head coach Bruce Boudreau teed off with Mike Weir, winner of the 2003 Masters.
A small group of enthusiastic supporters, who had woken with the sun to arrive by the 6:30 AM start time, crowded Woods as he began the day, and Romo received applause from several Cowboys fans in attendance. Within a few hours, attendance had grown significantly as crowds followed Woods's team, which included House Republican leader John Boehner, a 7½ handicap, and Thomas Dundon, CEO of Drive Financial and Santander.
Boudreau presented both Woods and fellow Canadian Weir with signed Alexander Ovechkin jerseys. Boudreau joked about Canadians (including Weir) shooting left-handed before teeing off. "It's because all the Canadian hockey players shoot left-handed," he said.
Also making an appearance was Redskins kicker Shaun Suisham, although he didn't play. "I didn't make the cut," he said.
So how did his Skins teammates fare? Campbell's tee shot cleared the lake on the par-3 number 10, landing just over the green—a respectable shot. Randle-El's didn't work out quite as well. His first shot landed smack in the middle of the lake. "A little short," he joked.