See more from the Best of Washington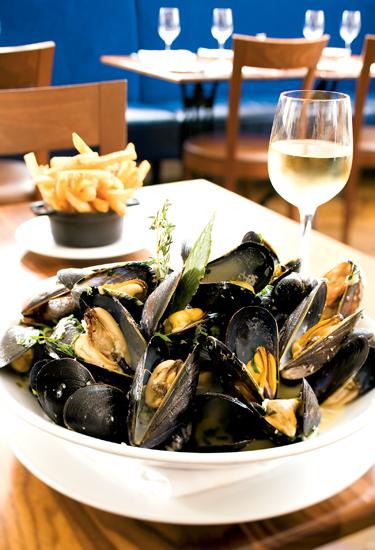 Best classic rendition: Eating a pot of mussels and perfect fries at an umbrella-topped patio table at Café du Parc is the closest thing to being in Paris. It's such a charming experience that it's easy to lose sight of how sweet and delicate the plump, white-wine-steamed mussels are.
Best happy-hour deal: It wasn't just the dead-on recreation of a weathered tavern that made Granville Moore's an insta-hit; it was the rope-grown Prince Edward Island mussels. We like them steamed with white wine and herbs or perked up with a few dollops of basil-walnut-arugula pesto or a hearty handful of crumbled bacon, blue cheese, and spinach. Dip a side of hand-cut, sea-salt-topped fries into any of six house-made dips, including a horseradish cream sauce and a Dijon mayo. On Mondays from 5 to 7, the mussels are a steal at $10.
Best variation on steamed: The menu at Franklins Restaurant, Brewery, and General Store has gone through many permutations in its five years. But one dish hasn't budged since opening day—the mussels, sprinkled liberally with kosher salt and roasted until the black shells open. The prize inside is marvelously salty and smoky.
Follow the Best Bites Bloggers on Twitter at twitter.com/bestbitesblog
More>> Best Bites Blog | Food & Dining | Restaurant Finder