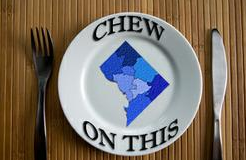 Our Best of Washington issue was just posted online, and it's full of recommendations: Where to find everything from great farmers-market chocolate pudding to a standout lobster burger to the hottest grill. But we want to know about your summer foodie favorites. Is there a berry patch that you love to hit for pick-your-own fruit? A knockout pie that signals the height of July? A killer restaurant cocktail? A butcher shop you regularly raid before a cookout—or even a great supermarket barbecue sauce? Let us know in the comments.
Related:
Chew on This: What's Your Favorite French Restaurant?
Chew on This: Where Should the Real World Cast Eat?
Chew on This: Where's the Best Cupcake?
More>> Best Bites Blog | Food & Dining | Restaurant Finder
Follow the Best Bites Bloggers on Twitter at twitter.com/bestbitesblog