See more from the Best of Washington
Eric Schaeffer, artistic director, Signature Theatre
Watching the fireworks on the Fourth of July is the best. I usually go to the Kennedy Center because there's a picnic up there, but I also like to go to the Mall down by the Capitol so I can hear the National Symphony at the same time.
I also love to get on my bike and hit the trails. The Mount Vernon Trail goes through Rosslyn all the way down to Mount Vernon, and it's a great 18½-mile trek.
Dan Scheuerman, frontman for the band Deleted Scenes
I remember, as a kid, waking before dawn and driving with my family to the Wye River on the Eastern Shore to catch crabs. Threatening one's little brothers with a shove into the jellyfish-rich waters is among the greatest joys in life.
A crab feast is the best thing you can do in the summer in this area. Blackberry picking comes in a close second.
Carla Hall, former Top Chef contestant and owner of Alchemy Caterers in Wheaton
Outdoor summer concerts are great chances to picnic. I feel joy when people ask me where I got something we're eating, and I can tell them, "Oh, I made it!"
Sometimes I get up early and go rollerblading along the C&O Canal. The tunnel there is my little respite from the heat, and the canopies of trees are nice and cool.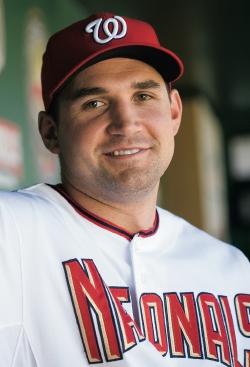 Vincent Gray, chairman, DC Council
I used to be a baseball player, and I still play, so I look forward to the summer for that and softball. I play in a men's softball league that's very competitive. I enjoy getting out for a couple of hours and just having fun playing ball.
Michel Richard, chef and restaurateur, Citronelle and Central
Often if I'm not working on the weekend, we'll go to Annapolis and look at the boats. There's an Italian ice-cream place there I like, Aromi d'Italia (8 Dock St., Annapolis; 410-263-1300).
I have my own pool, so when we're off, I swim, play with my little dog, Scout, and barbecue. I do a good rib-eye steak; I put a ton of rosemary and thyme around it, and I serve it with parsley butter sauce. Then we eat a ton of ice cream.
Michele Norris, cohost, NPR's All Things Considered
My favorite place in the summer is Rock Creek Park. I run there, I bike with my kids, we picnic and hike. It's so glorious—a patch of the city that makes you feel like you live in the country. It's also a great place to people-watch: You have children learning to ride bikes, rollerbladers, older couples holding hands.
Ryan Zimmerman, third baseman, Washington Nationals
The Nats play so much in the summer that I don't get much time off, but I like to get dinner in the evening if we have a day game. I live in Arlington, so I go to the Liberty Tavern (3195 Wilson Blvd.; 703-465-9360) a lot; you can eat outside at most of the restaurants in that area along Wilson Boulevard. I also really like Mexican food. Rosa Mexicano in DC (575 Seventh St., NW; 202-783-5522) is another good place to eat outside.
Lindsay Buscher, owner, Urban Chic in Georgetown
I have two kids, and the first thing we do every summer is go to the National Zoo. We pack up a picnic and have a really nice day.
Without the kids, my husband and I like to go to Hank's Oyster Bar, down by Dupont Circle (1624 Q St., NW; 202-462-4265). They have my favorite beer, Allagash White—it's a light wheat ale, and it's the perfect beer to drink in the sunshine. Then we walk over to Komi (1509 17th St., NW; 202-332-9200), one of our favorite restaurants.
Katharine Weymouth, publisher, Washington Post
Our two favorite things to do are walking the Billy Goat Trail, on the Maryland side of Great Falls, and having dinner at Perry's on the rooftop (1811 Columbia Rd., NW; 202-234-6218). It's funky, and it's got cool lighting and great food. Also, on weekends we like to invite ourselves to visit friends who have pools.
This article first appeared in the July 2009 issue of The Washingtonian. For more articles from that issue, click here.
More>> Capital Comment Blog | News & Politics | Society Photos