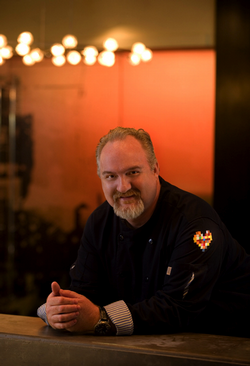 • Nicaro reopened Tuesday after a monthlong hiatus, but there's a new chef and management team running the Silver Spring restaurant, reports Washington Post Going Out Guru Julia Beizer. Luis Martinez, who previously worked at a long list of chains (McCormick & Schmick's, the Cheesecake Factory, Red Rock Canyon) has taken over the kitchen for Pedro Matamoros. Matamoros, who garnered praise for his house-made charcuterie and pastas, is planning a new restaurant, 8407, also in Silver Spring. He hopes to open the doors in October, with "seasonal menus that explore the American artisanal concept," according to the place's Web site.
• On Wednesday, Art Smith, the chef behind Art and Soul, had to pack his knives and leave Top Chef Masters. His vegan dessert didn't impress dietary-restricted actress Zooey Deschanel and the judges, who took away stars for using store-bought rice-milk ice cream. We can't say we didn't see it coming, though: Smith is known for his Southern food, including sinful fried chicken and macaroni and cheese—in other words, items that rely on their animal products.
• The Washington City Paper's Tim Carman reports that chef/restaurateur Jeff Black (Addie's, Black Market Bistro, BlackSalt, Black's Bar and Kitchen) is scouting DC locations for a fifth restaurant, which would be his second in the District. He told Carman that among other neighborhoods, he's looking at the U Street corridor—could that mean he's clamoring for a piece of the 14th Street pie? Because who isn't these days?
• Is pizza the new cupcake? We hope so. Tim Carman also brings news of two new pie shops coming to town. Spiro Gioldasis, the former general manager at Mrs. K's Toll House, plans to open the 65-seat Pacci's in Silver Spring. The closed Fratelli la Bufala space in Georgetown will reportedly turn out pies as well.
• Does the Italian Embassy have a deal with the Restaurant Association Metropolitan Washington? The Washington Business Journal's Missy Frederick reveals that yet another Italian place is coming to DC, and this one is a biggie: 20,000 square feet to be exact. Carmine's, the New York red-sauce restaurant known for gargatuan portions, hopes to open the doors to its Penn Quarter outpost in February 2010. The restaurant's CEO says that the menu will be identical to the 20-year-old one he uses in his New York eateries. One Washington difference: It'll have a private entrance for Secret Service.
• First Lady Michelle Obama paid a second visit to Capitol Hill's Good Stuff Eatery, the burger spot owned by former Top Chef contestant Spike Mendelsohn. This time, she brought daughters Sasha and Malia along. According to TMZ, in addition to burgers, fries, and onion rings, they had a "variety of shakes—cocoa, vanilla, toasted marshmallow, and Milky Way." What we want to know: How does Michelle maintain those Madonna-like arms with regular burger runs?
More>> Best Bites Blog | Food & Dining | Restaurant Finder
Follow the Best Bites Bloggers on Twitter at twitter.com/bestbitesblog