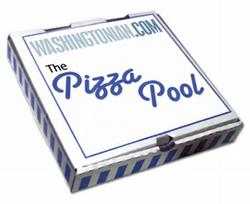 Washington is more than 4,000 miles from Naples, Italy, the birthplace of pizza. And more than 200 miles from New York, home of the best slices in America. But in the past few years, Washington has proven that you don't have to travel more than a few blocks for a truly excellent slice. An explosion of pizza spots all over the area means that 2 Amys and Pizzeria Paradiso are no longer the last word in good pizza—there are now dozen of places that offer delicious pies. We thought it was high time to celebrate, and so, starting Monday, August 10, we'll be rolling out a new feature: The Pizza Pool!
If you participated in our Burger Brackets in March, you already know the deal: We've picked 32 of our favorite pizza spots, and every day through the remainder of August, we'll be pairing off their creations, and asking you to vote on which of them is the best. The winner of each face off will move on to the next round, until we have our reader-voted best pizza in Washington. Kind of like March Madness brackets, but tastier!
As we said above, we won't start the voting until Monday, August 10. But in the meantime, we've got a fun little contest for you: Guess the outcome of the Pizza Pool. As noted, we have 32 spots, but we're asking you to predict the outcomes of the later rounds (from the Sweet 16 through to the winner).
Cut and paste the form below into an email, enter your choices, and email it to pizzapool@washingtonian.com (Subject: Pizza Pool) by Friday, August 7. The person who comes the closest to guessing all the slots will win a $100 gift certificate to Pete's New Haven Style Apizza in DC's Columbia Heights.
Here is a link to the bracket. Be sure to check your choices against it so they make sense (i.e., both Luigi's and Radius shouldn't be in your Sweet 16 choices, because one will eliminate the other in the first round). Also, more points will be awarded for later rounds. For each Sweet 16 slot you get right, you get 1 point; 2 points for the Edible Eight; 3 points for Final Four; 4 points for the finalists, and 5 points for correctly guessing the champion.
The deadline for bracket submissions has now passed. Thanks for participating! Polls are now open for the Pizza Pool's first match: Petes New Have Apizza vs. Ledo Pizza. Cast your vote here, and make sure to check in back later for today's second face-off.
To keep up with the Pizza Pool competition, click here.