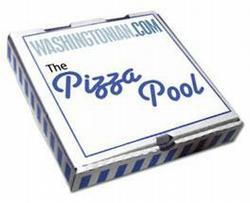 UPDATE: This contest is now closed. Tony's Pizza won! You can still vote in new matchups and see the current contestants here.
Who makes the best pizza in Washington? You tell us! We're asking you to vote in the first Washingtonian.com Pizza Pool, a brackets-style contest that will narrow 32 pizzas to one winner. For a refresher on how the brackets will work, head here.
Earlier today, RedRocks crushed Monterey's pizza by a large margin; you can still vote in the ongoing Moroni & Brother's vs. Pie-Tanza, which is taking place here. That contest is over; Moroni & Brother's won! You can still vote in new matchups and see the current contestants here.
To see today's match up, check below.
Tony's NY Pizza: It may be in a strip mall, but Tony's NY Pizza lives up to its name. The D'Agostino family conjures memories of Broadway pizza haunts with jumbo triangles sporting a delicately browned crust.
The Source: Creative pizza-making is what made chef Wolfgang Puck famous at Spago in Los Angeles, so it's only fitting that the lounge at his restaurant in DC's Newseum serves his classics, such as smoked salmon with dill cream and caviar.
Did you know? If you click the links of each of those restaurants' names, you can leave your own review of their pizza at that page!
This poll will stay open until 3 PM on Thursday.
*To help keep this contest fair, we've elected to use an IP address-based poll. This means that if you are voting from an office or network setting, not everybody will be able to vote. We apologize for the inconvenience, but we hope you'll encourage coworkers to vote from their home computers.