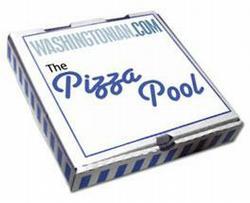 Update: This contest is now closed. 2 Amys won! You can still vote in new matchups and see the current contestants here.
Who makes the best pizza in Washington? You tell us! We're asking you to vote in the first Washingtonian.com Pizza Pool, a brackets-style contest that will narrow 32 pizzas to one winner. For a refresher on how the brackets will work, head here.
Earlier today, Posto beat out Alberto's Pizza. You can still vote in new matchups and see the current contestants here.
To see today's match up, check below.
2 Amys: Chef Peter Pastan's casual neighborhood gem, with its line out the door, built its reputation on its D.O.C.–accredited Neapolitan-style pizza. The blistered rounds that emerge from the wood-burning oven come topped with say, cockles and grana padano, or house-made pork sausage with caramelized onions.
Pi Pizzeria: This tiny pizza shop/wine bar, smack in the heart of Jumbo Slice territory (a.k.a. Adams Morgan), serves thin pies sparingly laden with such toppings as fennel sausage, prosciutto, and buffalo mozzarella.
Did you know? If you click the links of each of those restaurants' names, you can leave your own review of their pizza at that page!
This poll will stay open until 12 PM on Saturday.
*To help keep this contest fair, we've elected to use an IP address-based poll. This means that if you are voting from an office or network setting, not everybody will be able to vote. We apologize for the inconvenience, but we hope you'll encourage coworkers to vote from their home computers.