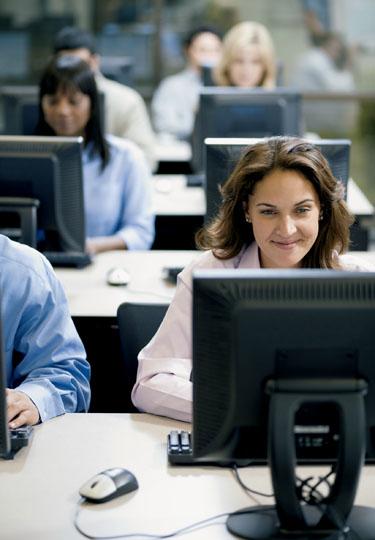 Maria-Antonietta Lo Faro's voice still cracks when she talks about her "papa," who died five years ago from Alzheimer's disease. But Lo Faro, 60, has found a 21st-century outlet for her grief: She's learning how to build a Web site that will showcase her father's art.
"He was a great artist, but no one ever saw his art," says Lo Faro, who works at the State Department. "I need to do this for him." She took a six-week course offered by First Class in DC's Dupont Circle and plans to use her new skills to post photos of her father's sculptures, woodcarvings, oil paintings, and poems.
Computer classes aren't just for technology professionals. Local universities, community colleges, public schools, computer centers, and nonprofit organizations offer options for people who want to improve their technology know-how, whether for business or personal reasons.
"In today's society, computer skills are essential," says S.K. Bhaskar of the University of Maryland University College's Department of Computer Information Systems and Technology. "You have to be aware of the costs and benefits of the way we use computers."
Classes range from introductory courses about personal computers—starting with how to find the "on" button—to social networking, blogging, computer security, and database management. Students can drop in for free classes at the public library, sign up for one-day seminars and multi-week series, or enroll in advanced certificate programs that take a semester or more to complete.
"Students are getting more tech-savvy," says Michelle Drumheller, who teaches adult courses for Arlington Public Schools. "They are coming in with higher expectations for what they want to learn. They know what other people can do."
Even so, plenty of people are challenged by the fundamentals. "I thought when Windows XP came out I would be out of a job because everything is so obvious, but we found the opposite," says David Campbell, a continuing-education instructor at Northern Virginia Community College–Annandale. Besides offering courses on software such as Microsoft Excel and Intuit QuickBooks, Campbell teaches a class that covers how to maintain, upgrade, and troubleshoot personal computers.
Elizabeth Wilson, a 61-year-old substitute teacher for Fairfax County Public Schools, says taking a computer-basics class offered by the school district has made her feel more independent. "I can do more things without having to ask for family help," she says. "I don't want to get passed up as I get older."
She was especially proud of learning Microsoft Excel: "When I substitute-teach, I end up in computer labs. Kids can do pie charts and move numbers around, and I'm in there pretending I know what's going on."
Having tech skills "makes people feel like they're current—'I know about that Web thing; I can make a Web site,' " says Renee Kesner, who teaches a Web-developer certificate program at Northern Virginia Community College's Manassas campus. "It makes them a participant in what's so much a part of all of our lives now."
That's especially true for seniors. "Our students start out wanting to e-mail their grandkids or find health information online," says Camille Crawford, coordinator of Prince George's Community College's SAGE Program for "seasoned adults." "Then they want to learn how to use Microsoft Publisher so they can be the person who does their community or church bulletin."
Many working professionals take classes to get ahead. According to New Horizons Computer Learning Centers, a global IT training company, 250,000 Washingtonians have been trained at its McLean location since it opened in 1992. Most students aim to improve on-the-job efficiency by learning new software or tackling HTML.
Textile and furniture artist Tea Okropiridze, 35, learned Web design on a now-outdated program in Georgia, her native country, before emigrating to Manassas seven years ago. To learn new skills—and earn a certificate from an American college—she enrolled in Kesner's program at Northern Virginia Community College. "Technology grows so fast," she says. "Now everything is interactive." Okropiridze has been able to redesign her own and her husband's business Web sites and build pages for friends and family.
And because of the weaker job market, laid-off professionals are seeking résumé boosters while the still-employed hope new skills will make them more valuable to their companies. "We definitely have seen an uptick in registrations," says Ed Palaszynski, a director of Montgomery College's Information Technology Institute. "We can't hold enough classes."
Where to Find Classes
Academy of Computer Education, 7833 Walker Dr., Suite 520-C, Greenbelt; 45195 Research Pl., Ashburn; 301-220-2802. Advanced IT-networking and -security certifications.
Arlington County Public Library Free walk-in classes on Internet searches, blogs, and online job hunting.
Arlington Public Schools, 2801 Clarendon Blvd., Suite 306, Arlington; 703-228-7200. For adult learners, a variety of classes: keyboarding, buying a computer, Facebook, genealogy on the Internet, selling on eBay, digital photography, Quicken.
Corcoran College of Art & Design, 1801 35th St., NW; 202-298-2541. Weeklong seminars, semester courses, and certificate programs on digital-media topics for personal enrichment and for designers who want to expand their repertoires.
District of Columbia Public Library, 901 G St., NW; 202-727-0321. Free walk-in computer classes: e-mail basics, HTML, Microsoft Office.
Fairfax County Public Schools Adult and Community Education, 703-658-1220. Courses offered to adults regardless of residency. Blogging basics, desktop publishing, Microsoft Office, Web design, wireless home networking.
First Class, 1726 20th St., NW; 202-797-5102. Classroom and online courses: "Earn $1,000 in 30 Days Using Social Networking," "Facebook Bootcamp for Boomers," Web design.
The Graduate School, 600 Maryland Ave., SW; 888-744-4723. Evening and weekend courses, offered by the US Department of Agriculture, cover such topics as Photoshop, A+ service-technician certification, computer-security fundamentals, HTML and CSS, and Microsoft products.
Montgomery College, 51 Mannakee St., Rockville; 20200 Observation Dr., Germantown; 7600 Takoma Ave., Takoma Park; 240-567-5188. Courses for workforce development or continuing education, from basic keyboarding and Microsoft Office to Web design and computer networking.
New Horizons Computer Learning Centers, 2010 Corporate Ridge, Suite 200, McLean; 1331 F St., NW, Suite 420; 703-749-4030. Crash courses for business professionals on computer software, Web development, and advanced topics.
Northern Virginia Community College, locations in Alexandria, Annandale, Sterling, Manassas, and Woodbridge; 703-323-3000. Certificate programs offered draw mostly career changers.
Osher Lifelong Learning Institute, American University, 4400 Massachusetts Ave., NW, 202-895-4860; George Mason University, 21641 Ridgetop Cir., Suite 210, Sterling, 703-503-3384. These programs offer classes for "seasoned learners," including basics such as how to use e-mail and the Internet.
Prince George's Community College, 301 Largo Rd., Largo; 301-336-6000. Classes for everyone from the computer-phobic to advanced techies; also basic PC and Internet courses for "seasoned adults" ages 60 and up.
University of Maryland University College, 3501 University Blvd. E., Adelphi; 800-888-8682. College classes on information technology, computer science, cybersecurity, and computer studies that can be taken for credit or audited.
This article first appeared in the August 2009 issue of Washingtonian. For more articles from that issue, click here.