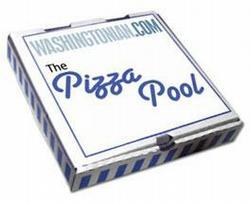 UPDATE: This poll is now closed. Radius Pizza won!
Who makes the best pizza in Washington? You tell us! We're asking you to vote in the first Washingtonian.com Pizza Pool, a brackets-style contest that will narrow 32 pizzas to one winner. For a refresher on how the brackets will work, head here.
To see today's match up, check below.
Radius Pizza: Pancetta, housemade sausage, and kalamata olives are just a few of the toppings available at this eat-in/delivery Mount Pleasant pizza place, now run by an alum of Poste and Black's Bar and Kitchen.
Luigi's: On weekdays, the downtown DC lunch crowd flocks to this 66-year-old restaurant. The well-crafted pizza—salt lovers should get it topped with green olives—is gooey with cheese and less greasy than most.This poll will stay open until noon on Wednesday.
*To help keep this contest fair, we've elected to use an IP address-based poll. This means that if you are voting from an office or network setting, not everybody will be able to vote. We apologize for the inconvenience, but we hope you'll encourage coworkers to vote from their home computers.