Summer may still be sweltering, but fashionistas know it's past time to purchase swimwear and sandals. New fall fashions are flooding into Washington stores, and we've got the scoop on what trends are making a splash.
Bloomingdale's ready-to-wear fashion director Stephanie Solomon credits Hollywood for inspiring many of this fall's must-have trends, including one of the most popular looks—the '80s revival. "Movies offer a compelling fantasy world where anything is possible," says Solomon. "Film has a way of captivating and inspiring its audience. [Designers such as] Michael Kors and Ralph Lauren looked to the trends and cultural influences of the 1980s and reinterpreted its finest moments to create a modern look for fall."
Many designers were also inspired by a more conservative era, creating Mad Men-esque fashions evocative of the '40s, '50s and '60s. Tailored jackets, plaid, and classic dresses in jewel-tone colors ruled the fall runways and fit right in for Washington offices.
Lest you fear you'll need to shell out major moolah to look on-trend, designers have incorporated many top looks from fall 2008 and spring 2009 into this year's. See our "old and new" chart (below) for slight changes, but rest assured you can keep your booties, metallics, slim-cut pants and statement necklaces in the front of your closet for at least a few more months.
Additionally, this season's big pieces are incorporating twists on classics. It's the perfect time to stock up on basics such as cashmere sweaters, blazers, sheath dresses, and overcoats that can be worn for seasons to come.
Here are a few of our favorite looks for fall 2009: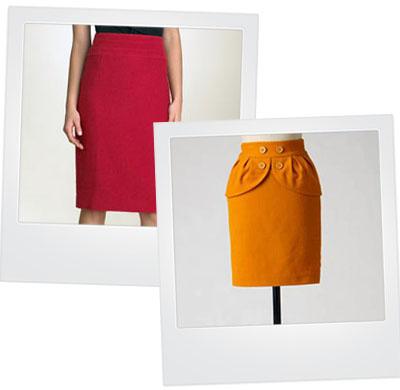 Ladylike and Lovely
Whether you live for color or love your little black dress, you'll find a frock that suits your style this season. Form-fitting dresses and feminine accents ruled the runways. Unlike previous seasons, this year's look is more about mature beauty than girly-girl chic—hemlines often hit at the knee or below, and the look is streamlined.
Classiques Entier Distinct Weave Skirt, $168, Nordstrom.
Leifsdottir Honeyed Peplum Skirt, $258, Anthropologie.
'80s Inspiration
The statement shoulder is the easiest way to wear this revival trend. Fortunately, strong shoulders suit most shapes, in the office or out. Of course, feel free to sport neons (in small doses!) and acid-washed jeans . . . on the weekends.
David Lerner Lace Side Leggings, $99, Cusp.
BE&D Ludlow Studded Leather Hobo, $795, Bloomingdales.
Marc by Marc Jacobs Avery Colorblock Dress, $598, ShopBop.com.
Mad About Plaid
Pick your poison—tartan, checked, houndstooth, and plain old plaid are all in for fall. Borrow from your man (not literally, of course) and wear the look with a button-down shirt, sport a statement coat, or don a quirky skirt.
Alexander McQueen Dogstooth Pants, $1360, Neiman Marcus.
Sequins, Shine, and Leather
You don't have to be a movie star to rock these flashy looks. Skinny gals can sport liquid leggings with sequin tops or leather dresses, while we regular folk can play up the trend with a single statement piece.
Kimberly Ovitz Elliott Leather Fringe Skirt, $940, Netaporter.com.
S.W.O.R.D. Volterra Leather Jacket, $814, RevolveClothing.com.
LaRok I Am a Rockstar Leggings, $348, ShopBop.com.
Fabric Fantasies
We may be in a recession, but that doesn't mean designers are skimping on fabric. Instead of spring and summer's staple—the ruffle—fabric for fall is draped, ruched, shirred, and pleated in a variety of attractive styles. Find this look on dresses with a hint of a side pleat, a chic blouse with extra arm detail, or even overcoats with ultra-cozy extra folds. Think of this as the evolution of the layering and cocooning trends.
Donna Karan Belted Draped Dress, $2695, Bergdorf Goodman.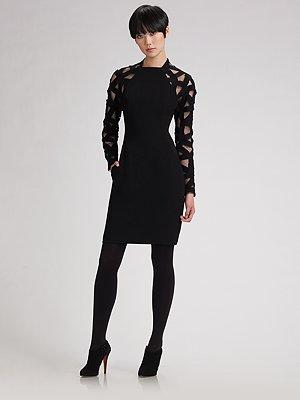 Investment Pieces
This is the season to invest in great coats, dresses, and cashmeres. The styles are more classic than we've seen in some time, so if you find a look that works for you, buy at least one "luxe" piece this fall.
Akris Long-Sleeve Embroidered Dress, $3990, Saks.
New
Pleats
Lovin' leather
Sequins
Pink
Monochromatic looks
Mad Men
Open toe booties
Over the knee boots
Old
Ruffles
Boho chic
Feathers
Purple
Busy Patterns
Gossip Girl
Booties
Flat boots