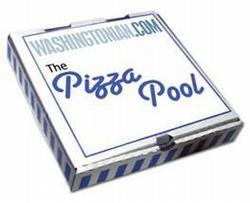 Well, folks, we've made it. The first round of the first-ever Pizza Pool is over (well, nearly—voting in Sette Osteria vs. Rustico goes until 3 PM today)! There have been a few serious upsets—we still can't believe that Comet Ping Pong was knocked out in the first round—but all in all, some of the area's best pizza made it through to the second bracket level.
Second round voting will start on Monday. Check back that day at noon for Pete's New Haven Apizza vs. Cafe Pizzaiolo, and later on Monday for Piola vs. RedRocks Pizzeria.
Have a great weekend—perhaps you'll be indulging in a slice or two?—and we'll see you back here for voting on Monday.