All you need to bring is an appetite and a pair of bike shorts for the Tour d'Epicure, a gourmet cycling adventure in Virginia horse and wine country. Just about everything else is taken care of by the Foster Harris House in "Little Washington."
All meals are included, from John and Diane MacPherson's four-course breakfasts—leave room for dessert—to lunch on the deck at Rappahannock Cellars to a finale dinner at the famous Inn at Little Washington up the street. John, a master at pairing, selects wines for each meal.
On your arrival, the former bike racer fits you for helmets and Giant-brand road bikes. He gives tips to beginners on a "short" 12-mile ride along a scenic river. Next is "wine down" hour on the deck overlooking the horse pastures, then transportation to a nearby restaurant.
The second day's itinerary includes 30 miles of cycling, always with the option of hopping into the van. At night, you rest up in one of the elegant guest rooms.
Five all-inclusive Tours d'Epicure are scheduled this fall—the next is September 15 to 17—but the inn will try to accommodate cyclists anytime for a custom stay.
Our tip: If you're used to your own bike, go ahead and bring it along.
Travel time from Washington: About 80 minutes.
What it costs: Two-night Tour d'Epicure packages range from $799 to $1,099 a person, depending on room.
More information: tourdepicure.com.
—Mary Burnham
Hamanassett B&B: Explore Brandywine Valley
Hamanassett Bed & Breakfast is owned by Louisiana native Ashley Mon and her husband, Glenn, who bring Southern hospitality to Pennsylvania's Brandywine Valley. Seven acres, two dogs, a koi pond with a bullfrog named Cornbread Willy, a living room with a baby grand piano, and a billiard table make lingering easy.
Mon's past as an antiques dealer is obvious in the elegant front parlor with its piano and fine silver. Spacious guest rooms are decorated with antiques but have modern touches such as flat-screen TVs and iPod docking stations. Breakfast features such gourmet treats as salmon soufflé and foie-gras-laced mushrooms.
The inn is a short drive from Kennett Square, known for trendy boutiques—the eco-chic Paper Market and denim emporium Chantilly Blue among them—as well as restaurants such as Half Moon, which serves kangaroo, emu, and other unusual game, and Talula's Table, an haute gourmet market that's a favorite of Martha Stewart's.
The nearby town of West Chester is also perfect for the culinarily curious, with family-owned Carlino's Italian Market and the Lincoln Room, which serves scones and towering tea sandwiches on china.
In terms of activities, there's something for everyone in Brandywine Valley—Longwood Gardens; the Philadelphia Zoo; the Brandywine River Museum, which houses the art of three generations of Wyeths; the QVC shopping channel's studio tours; the American Helicopter Museum; and the Mushroom Cap, a quirky mushroom retailer that doubles as a museum.
The inn makes it easier to explore the area with its Brandywine Sampler package, which includes free admission to major sites and discounts at shops, restaurants, galleries, and spas.
Our tip: Reserve a spot in the inn's hands-on cooking school led by chef Ann-Michelle Albertson, who trained at La Varenne in Paris. The next class, "Take a Buttocks of Beef," will feature English holiday fare; it's November 8 and 9.
Travel time from Washington: 2½ hours.
What it costs: The Brandywine Sampler package starts at $220 a night per couple.
More information: hamanassett.com.
—Andrea C. Poe
Virginia Wine Adventures: You Drink, They Drive
While Virginia Wine Adventures offers day trips, it also works with a number of inns in Virginia, meaning that you can schedule a wine tour when booking a room. Popular choices include the luxe Goodstone Inn in Middleburg (see page 94) and the historic Norris House in Leesburg.
The $125-a-person winery tour includes pickup and drop-off at the inn, visits to up to four vineyards, tasting fees, lunch, and snacks. Two couples are paired in a chauffeured minivan with a driver who is knowledgeable about wine. Don't worry if you don't know the other couple: Owner Deidra Biggs Stevens says people usually become quick friends and often end up having dinner together. "Wine is a great unifier," she says.
Our tip: If staying near Middleburg or The Plains, ask to visit three of our favorite vineyards—Gray Ghost, Mediterranean Cellars, and Pearmund Cellars. Family-owned Gray Ghost is one of the state's oldest wineries. Don't miss its Adieu, a late-harvest Vidal dessert wine that regularly trumps California wines. Mediterranean Cellars is the only US producer of the ancient Greek wine Rechina. Pearmund produces big, bold wines.
Travel time from Washington: One to two hours, depending on the inn.
What it costs: $125 a person plus inn accommodations.
More information: vawineadventures.com.
—Matthew Graham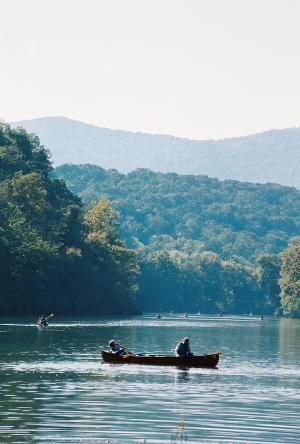 Shenandoah River Outfitters: Canoes and Log Cabins
Stay in one of this outfitter's log cabins on Virginia's Shenandoah River and have easy access to the water. The setup at Shenandoah River Outfitters couldn't be better: Shuttle service is provided to and from 19 put-in and take-out points along the river. Each is marked by a sign attached to a tree. Want a two-hour canoe trip? Go from stop 8 to 11. Or spend a half day rafting from 13 to 19. Or just laze along the water on an inner tube. Livery service is provided if you bring your own boat.
Fishing and paddling trips are also available. This is considered the river's most scenic section, between the Massanutten Ridge and the Blue Ridge of Shenandoah National Park. Wherever you go, you have a view of mountains.
Most of the log cabins have a kitchenette, bathroom, dining area, DirecTV, heating and air conditioning, and charcoal grill. The cabins sleep up to six—four comfortably. The newer ones have hot tubs on the deck. All cabins are pet-friendly.
Our tip: Bring your own bed linens and towels and save the $15-a-bed charge. While dining is available in nearby Luray—mostly fast food—we suggest packing provisions and having a cookout.
Travel time from Washington: Two hours.
What it costs: In the fall, cabins start at $155 a night on weekends, with a two-night minimum; $115 on weekdays. Rentals start at $18 a person for an inner tube, $55 for a canoe.
More information: shenandoahriver.com.
—Matthew Graham
Lancaster Arts Hotel: Gallery Tour? This Way, Sir
Love seeing art and talking to artists? Consider a stay at Lancaster Arts Hotel in Lancaster, Pennsylvania. The hotel will refer you to a concierge who can map out an art tour, even making appointments for you to visit local artists' studios. Simply visit paartsexperience.com and let the concierge know the artists or region you're interested in.
You don't even have to leave the building to see interesting art. The elegant hotel, a former tobacco warehouse, has a small gallery as well as art throughout the common areas; many rooms are dedicated to artists. Nearly all of the art in the hotel is for sale.
More than a half dozen restaurants are within walking distance. On-site is the very good John J. Jeffries Restaurant, which specializes in local and organic meats, produce, and seafood.
Our tip: If you've got time, stroll through the charming city of beautiful old brick buildings. Visit the Lancaster Museum of Art to see the works of regional artists, the Lancaster Quilt and Textile Museum, and Gallery Row, home to more than 18 galleries. On the first Friday of each month, nearly 100 art destinations in town—including performing-arts venues—hold open houses and stay open until at least 9 pm.
Travel time from Washington: 2½ hours.
What it costs: The Pennsylvania Arts Experience package starts at $216 a night if you stay two nights.
More information: lancasterartshotel.com.
—Matthew Graham