See the full Fall Weekends Guide >>
Goodstone Inn & Estate: Dive Into the Good Life
Once you check in, you don't have to leave this posh property if you don't want to. There are walking trails, canoes and mountain bikes to borrow, massages, hammocks, and a hot tub. The staff will set up badminton or bocce. Breakfast and afternoon tea are included, and the restaurant serves dinner.
We especially love whiling away an afternoon at the heated outdoor pool. The vine-covered façade of an old mansion makes for a dramatic backdrop on one side; on the other is a serene view of red barns and fields.
Raining? A movie library and addictive jigsaw puzzles will keep you busy. Each guest room—we're partial to Delphinium—is beautifully decorated. Most are in separate cottages or houses with sitting areas; all come with soft robes and house-made cookies.
But there are reasons to venture off the property. Shops both haute and horsey beckon in downtown Middleburg, as do nearby wineries.
Our tip: At the inn's dining room, chef Tarver King turns out modern-minded dishes that sometimes succeed (foamed carrot soup with shortbread powder) and sometimes seem as if the place is trying too hard (a fried-green-tomato appetizer accompanied by a tomato-vine leaf for smelling as you take each bite). For those who don't want to splurge for the $115 seven-course menu, there are fine restaurants in town, and most cottages come with kitchens—we saw a few guests checking in with picnic provisions from nearby Market Salamander.
Travel time from Washington: One hour.
What it costs: Rates are highest in fall, when rooms begin at $345 a night. The resort often runs specials that include dinner and accommodations.
More information: goodstone.com.
—Sherri Dalphonse
Historic Tidewater Inn: They Pamper Dogs, Too
No need to hire a pet sitter or drop off your dog at a kennel. The posh Tidewater Inn in Easton pampers people and animals.
Two pets are permitted in each room. You get free valet parking, finely appointed furnishings, and the chic Restaurant Local. Poochy gets treats, a squeaky crab toy, food and water bowls, a special menu including a selection of biscuits and natural meals, and a luxurious dog bed ($10 rental) at the foot of yours.
Our tip: Walk. Easton is a beautiful, small Colonial town. Everything you need for a fun and relaxing weekend is within walking distance—dog-friendly parks, restaurants and cafes, eclectic shops, antique stores, art galleries, and more.
Travel time from Washington: 90 minutes.
What it costs: The "Paw"fect Getaway Package costs $240, including the $25 fee for one pet (an extra pet is $25). Package rates and one-night stays aren't available during the Waterfowl Festival in November.
More information: tidewaterinn.com.
—Matthew Graham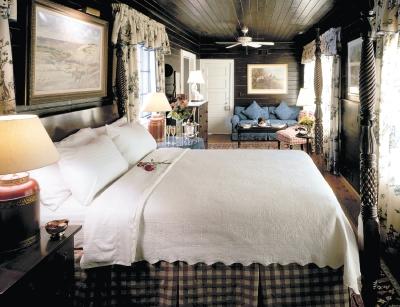 Gettysburg: A Visit Just Got Easier
A new Museum and Visitor Center is a great introduction to Gettysburg National Military Park in Pennsylvania: The exhibits and a film help put the battle in context; a colossal Cyclorama—a 360-degree circular oil painting of the battle—helps put you there.
If time allows, visit Soldiers' National Cemetery, where Abraham Lincoln delivered his Gettysburg Address, or the Eisenhower National Historic Site, the retirement farm of President Dwight Eisenhower.
What's also easy about Gettysburg: The well-preserved historic town is compact, so it makes for pleasant strolling. For dinner, atmosphere abounds at the Civil War–era Farnsworth House Inn (717-334-8838), featuring period foods such as peanut soup and spoon bread.
Our tip: You don't need to be a military buff to be moved while visiting the battlefield and standing where troops once stood in the Civil War's most famous encounter. Although park rangers give informative free talks, the best way to experience the battlefield is with a licensed battlefield guide, who will drive you around in your own car with stops to explain what took place. The cost is $55 per car for up to six people. For reservations, call 877-874-2478 or visit gettysburgfoundation.org three days in advance.
Travel time from Washington: One hour and 40 minutes.
What it costs: The battlefield is free; museum admission is $8.50 online, $10.50 if purchased in person on the day of your visit. Rooms at the Wyndham Gettysburg Hotel (wyndham.com) start at $135; at the Country Inn & Suites by Carlton (countryinns.com/gettysburgpa), an upscale motor inn, rates start at $139 including breakfast. Both hotels are five minutes from town and have indoor swimming pools. For something even more upscale, consider Antrim 1844 Country House Hotel (see page 79).
More information: gettysburg.travel.
—Eleanor Berman