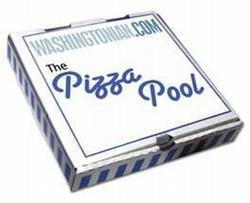 UPDATE: This contest is over; Ella's won!
Well, folks, we've made it even further on figuring out the best pizza in Washington! We're on to the Edible Eight of our Washingtonian.com Pizza Pool. The eight remaining pizza spots will be posted over the course of the next few days. We'll still be posting two contests a day, and each will remain open for 24 hours. For a refresher on how the brackets will work, head here.
Radius Pizza: Pancetta, housemade sausage, and kalamata olives are just a few of the toppings available at this eat-in/delivery Mount Pleasant pizza place, now run by an alum of Poste and Black's Bar and Kitchen.
Ella's Wood Fired Pizza: Nearly 20 wood-fired pies are offered on this Penn Quarter spot's menu, including specialty combos such as the Lombardi (caramelized onions, gorgonzola, and rosemary) and the Polpotini (meatballs, leeks, and parmesan).
This poll will stay open until 3 PM on Tuesday.
*To help keep this contest fair, we've elected to use an IP address-based poll. This means that if you are voting from an office or network setting, not everybody will be able to vote. We apologize for the inconvenience, but we hope you'll encourage coworkers to vote from their home computers.