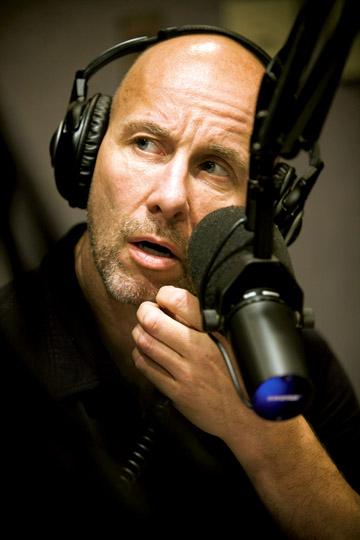 Want smash-mouth, trash-talking chin music? Coming to the sports-talk airwaves this month is Tony "Doctor Neurosis" Kornheiser versus Mike "I Wanna Be Tony" Wise. The plot is thick with money, bad blood, bruised egos—and a touch of irony.
"I'm bald and got issues," Wise tells me. "That's the only thing we have in common."
Kornheiser needs little introduction: He's the loved and hated New Yorker turned Washington sportswriter turned humor columnist turned TV-sports-show host. Recently relieved of his gig on Monday Night Football, Kornheiser is scheduled to begin hosting a sports-radio show on WTEM-AM (980) September 8.
Wise, who followed Kornheiser's path from the New York Times to sports columnist for the Washington Post, plays the upstart in this impending radio brawl. In July, he started a four-hour show middays on WJFK-FM (106.7), which just switched from music to sports talk in order to challenge WTEM.
"Tony is smart and funny," Wise says. "I'm just a goofball. I don't know whether that will play or not."
Kornheiser will occasionally call friends and say, "I hate Mike Wise."
Why did things go south?
"For me they never did," Wise says. "I will always love Tony."
Kornheiser couldn't be reached for comment.
Wise, 45, got into sportswriting at California's Sanger Herald. His feature-writing talent helped land him a job at the Times; his coverage of pro basketball got him on an ESPN radio show hosted by Kornheiser in 1999. "I will always be indebted to him for getting me on big-time radio," Wise says. "He was so gracious."
But when Post sports editor Emilio Garcia-Ruiz hired Wise in 2004, Kornheiser began running down Wise's columns on a regular basis.
Perhaps because Kornheiser was writing less? He was doing fewer columns for the Post but making his mark on TV. With Post sports columnist Mike Wilbon, Kornheiser has hosted ESPN's popular Pardon the Interruption, rat-a-tat-gabbing about the day's sports news. His star rising, Kornheiser took the coveted and highly paid third seat on Monday Night Football in 2006. He never seemed comfortable, his reviews were mixed, and he left in May.
His reason: "My fear of planes is legendary and sadly true."
Redskins owner Dan Snyder valued Kornheiser enough to put him on radio. Snyder owns WTEM. Potential conflict with ESPN and Pardon the Interruption—and Redskins coverage? Kornheiser says he sees none.
But the conflict with Wise could make great listening. Both will host locker-room conversations about sports and such. "I definitely see myself venturing into the cultural wasteland of my mind," Wise says. "Tony will do Louis Armstrong; I will do Journey."
Wise says he owes Kornheiser but is tired of trying to pay off the debt: "People tell me he kids the people he loves, but after a while you just want that love expressed in a different way."
Radio kisses?
This article first appeared in the September 2009 issue of Washingtonian. For more articles from that issue, click here.
More>> Capital Comment Blog | News & Politics | Society Photos