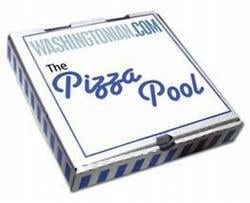 Well, folks, our long adventure of pizza panic is over! After leaving the Pizza Pool final open for the past week, it's time to announce a winner: Flippin' Pizza has taken the title over RedRocks Pizzeria with 54 percent to 46 percent. Congrats to both of the finalists, and to all 32 of the excellent pizza spots that competed in this bracket.
We do want to address a few comments that have been brought up over the course of this competition. First, it is important to realize that the pizzerias that advanced in the brackets are not endorsed by The Washingtonian as being the best pizza in the area; instead, these are reader-selected spots.
Though some PR efforts that were undertaken by various competitors may have irked readers (Flippin' Pizza offered a free pizza to those who voted for them, for example), we monitored the situation closely, and nothing went against any sort of rules we set at the start of the contest.
Finally, The Washingtonian is a magazine and web site that serves the entire Washington metropolitan area, from Northern Virginia to southern Maryland to all of the District. A restaurant or establishment that falls within that geographic distinction is seen by us as worthy of coverage.
Phew! All that said, we'd like you to give us your thoughts in the comments below on ways this contest could have been improved—and also, what you'd like to see be the next bracketed food feature. All we ask is that comments are kept civil and constructive.
Thanks for reading and taking part in the Pizza Pool! We hope you'll go out and try all of the pies that were included in the competition.
PS: We'll soon go through the contest entries by all those who sent in their picks for the Sweet 16 and announce who came closest—and therefore will win the $100 gift certificate to Pete's New Have Style Apizza!