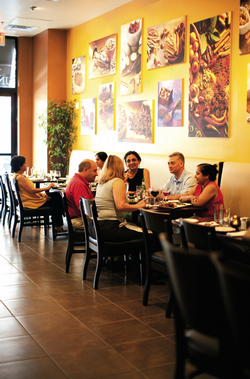 After a walk through the maze of parents, teens, and sticky-fingered kids who crowd Rockville Town Square on a hot summer night, it's instantly relaxing to enter the cool, calm Spice Xing. The restaurant is the creation of Sudhir Seth, founder of Heritage India in DC's Glover Park and chef/owner of Passage to India in Bethesda. Until now, Seth's restaurants have been known more for boldly spiced curries than their atmosphere, which has tended toward the solemn. Spice Xing is a striking departure.
The dining room is as colorful as a Bollywood sari, with turquoise-and-saffron walls and swaths of golden silk billowing from the ceiling. The drink list has the usual Kingfisher and mango lassi but also a lineup of creative cocktails (coriander-spiked margaritas, dangerously smooth lychee martinis) that wouldn't be out of place in such Penn Quarter hot spots as Zaytinya, Oyamel, and Rasika.
The menu offers many standards from Passage to India—roasted eggplant with stewed onions and tomatoes, a pleasantly sweet lamb-and-apricot stew—but it's more forward-thinking and affordable than its sibling. You can create a meal (a dirt-cheap one during happy hour) from a sprawling array of cross-cultural small plates that might put you in mind of a swinging Maharishi-meets-the-Beatles cocktail party.
They prove that Seth is as much a master of the bar snack as of curry. Dosas—thin lentil-flour crepes from southern India—are usually served as foot-long roll-ups; here they're shrunk to canapé size. With a pinch of spiced potato-and-coconut chutney, they make a terrific hors d'ouevre. A plate of chili-cheese toast might sound straight out of a Taj Mahal–themed Rachael Ray episode—small toasts baked with cheddar and a processed Indian cheese called amul are dipped by diners in ketchup—but the two-biters are the stuff junk-food dreams are made of. So, too, the fiery tandoori chicken wings, first rubbed with chili powder and masala, then marinated in yogurt, lemon, and garlic.
There's more to like than cocktail-hour fare. At many restaurants, cool salads such as papri chaat, a mix of potatoes and chickpeas, and bhel puri, made with puffed rice, come drenched in tamarind purée and yogurt; here they're carefully sauced and refined. Seth's shareable curries and sautés tend to be spicier than many. The coconut-based sauce of Chicken Malbari is stoked with dried chilies. Aloo do piaza, a toss of potatoes and scallions, gets a good dose of chili powder. Even paneer makhani and chicken tikka masala—dishes known for their sweet creaminess—impart a slow burn.
In three dinners, there were few flops, but most involved seafood. Grilled scallops were nicely charred but had zero flavor. Shrimp was overcooked whether charred and glazed in tamarind, drenched in a coconut curry, or in a spicy vinegar sauce.
Still, it's clear Seth has a hit on his hands. The best evidence? Crowds are rolling in.
This review appears in the September, 2009 issue of The Washingtonian.