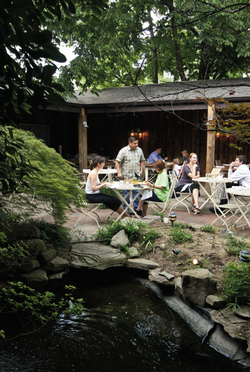 The most interesting thing about the menu at Blue Ridge, in DC's Glover Park, is the restaurant's earnest mission statement: a promise of sustainable food, local ingredients, and eco-friendly energy practices. Sound familiar? It's a popular formula among lots of Washington's young eateries, including owners Jared Rager and Eli Hengst's previous ventures, Sonoma in DC and Redwood in Bethesda.
Rager and Hengst sought to distinguish Blue Ridge from its peers by evoking the South with such touches as antique quilts on the walls and servers whose plaid shirts and blue jeans bespeak a homey unpretentiousness.
They also tapped Barton Seaver to man the stoves. The chef, who last year hung up his apron at Hook—reportedly for good—to become an advocate for sustainable fishing, gained a following at the splashy Georgetown restaurant, where his name was synonymous with sourcing only the most politically correct fish.
At Blue Ridge, the food is closer to the approachable simplicity of DC's Café Saint-Ex—where Seaver started his campaign for sustainable fish and market-driven menus. The fried-green-tomato BLT that won Seaver fans at Saint-Ex is reprised here, though with a too-generous swath of pimiento cheese, and the bulk of the menu is devoted to sipping and grazing: small plates (called "snacks"), cheese platters, and charcuterie boards.
But what are such cold-weather items as root vegetables, butternut squash, and apple pie doing on a summer menu? The biggest disappointment is that Seaver's flavors are timid: The redeye gravy that comes with fried eggs and a biscuit had no soulful punch, while an appetizer of fingerling-potato halves stuffed with the same pimiento cheese was bland.
The best dishes are the most straightforward: a well-seasoned rib eye with a simple herb butter, a creamy root-beer float.
Blue Ridge is strong on the issues. But so far at least, there's more to admire than desire.