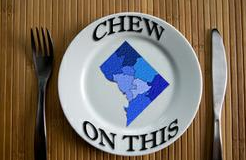 In dining editor Todd Kliman's chat this morning, he got the following question:

————–
DC TV: I love your chats and wonder what television you watch regarding food/cooking? For me—I have found PBS to be top notch. Between Lidia and America's Test Kitchen—I have found a great balance between recipes, tips, tricks, and great equipment. Lidia's food is shockingly similar to my family's Italian cuisine plus more variation, creativity, and imagination. ATK provides great advice.
Ever notice the awkward balance btw Christopher and the Chefs? The more you watch it is funny. Martha Stewart's 2 shows are interesting with great recipes but her hosts seem like robots. I am not looking for more Rachael Ray action. But a bit of off the cuff could be welcomed.
As for FOOD NTWK, I only enjoy Ina/Giada/Tyler. TK, Hope to hear where your interests lie with food and TV? Readers?
Todd Kliman: I'm with you—PBS all the way.
Food Network, back when it started, was not nearly so slick, not nearly so much an all-about-the-production-values sort of thing. Now, it's basically just models with sauce pans. I enjoy Alton Brown, the exception to the rule, but otherwise I hardly ever tune in.
If you want to learn anything, if you want to not be played, then PBS is a great place to turn. And I agree about America's Test Kitchen—it's very unintentionally funny. You really do get the impression that Christopher Kimball is an imperious patrician grouch, and that all the staffers indulge him while surreptitiously poking fun at him behind his back.
————–
We want to hear what you think of the current state of foodie TV. Do you agree with Todd that PBS is the way to go? Do Paula Deen and her doughnut-and-bacon sandwiches make you want to be gluttonous . . . or gag? Does it matter that the Food Network is more about entertainment than cooking? Do you rely on any shows or TV chefs for actual recipes or cooking advice, or do you find yourself pining for Julia Child reruns? Let us know in the comments.