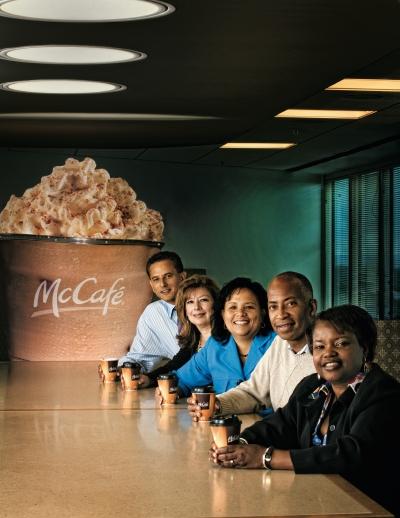 >> Click here to see all the Great Places to Work
Working for a small firm has advantages: The bureaucracy is smaller, communication is better, and the boss usually knows everyone's name. In our Great Places to Work survey, the happiest workers tend to be at small and midsize firms.
But there are advantages to thinking big. A large corporation has name recognition, prestigious clients, and stability. Bored with your job? Don't like your manager? You can find another position without changing companies.
Benefits menus are longer: Large firms usually have on-site gyms, cafeterias, and sometimes, as at Booz Allen Hamilton, child care.
These companies have the resources for things such as adoption assistance—a generous $11,390 at NetApp. That company also offers full health-care coverage for autism treatment, while Booz Allen provides up to $50,000 for in-vitro fertilization.
Mitre Corporation has hefty tuition reimbursement—up to $24,000 a year. Even better is Mitre's retirement-plan contribution: It typically puts in as much as 11 percent of a staffer's salary. No wonder the average tenure is eight years.
Big firms have more room for promotion. Stanley has not only mentoring but a program to groom leaders. Stanley's president worked his way up.
These companies make a large impact on the community. Last year, Booz Allen staff volunteered more than 52,000 hours, while the firm donated more than $6 million to charity.
At a mega-firm, workers aren't necessarily faces in a crowd. At NetApp, the vice chairman calls 30 to 40 employees a week to thank them for a job well done.
| Organization; Location and Web Site; What It Does | Full-Time Staff (Local/Total) | Why It's a Great Place to Work |
| --- | --- | --- |
| Booz Allen Hamilton; McLean; boozallen.com; Strategy-and-technology consulting firm | 13,444/ 19,282 | Employees are proud of Booz Allen's reputation and its work on issues from health-care reform to cybersecurity. Perks include on-site child care; up to $50,000 for in-vitro fertilization; an elder-care-management program; a learning center with on-site and online classes; and a 10%-of-salary contribution to the retirement plan. One of the area's largest firms, it throws grand events: It rents Kings Dominion each summer for a family day, and its holiday party—with a chocolate room—is at the National Air and Space Museum's Udvar-Hazy Center. |
| Marriott International; Bethesda; marriott.com; Operates and franchises hotels, including Ritz-Carlton | 12,600/ more than 104,000 | It was a hard year in hospitality—at Marriott, some staff events were cut and salaries frozen. But most employees still praise the culture—which they call ethical, caring, and family-oriented; turnover was less than 10% last year. Perks people continue to enjoy: on-site child care, a subsidized cafeteria, hotel discounts, and lots of community service. |
| McDonald's; Bethesda; mcdonalds.com; Fast-food-franchise support | 108/more than 1.7 million | While most McDonald's burger joints are franchises, corporate offices such as the one in Bethesda support a region's golden arches. The average tenure at this office is 12 years. One reason people stay is the flexibility—55% telecommute at least once a week. Other perks: spontaneous days off, sabbaticals, and a McCafe latte machine in the kitchen. |
| Mitre Corporation; McLean; mitre.org.Nonprofit that offers unbiased systems-engineering and technical advice to the government | 3,450/6,278 | Employees take pride in the work—which can affect everything from aviation safety to national security. Among the generous benefits: a retirement-plan contribution that's typically 11% of salary; as much as $24,000 in tuition reimbursement annually; 23 vacation days to start; up to 40 paid hours a year for volunteering; employee groups for everything from volleyball to glee club; 400 in-house professional-development courses a year. |
| NetApp; Vienna; netapp.com Data-storage-and-management solutions | 234/8,071 | Employees of this California-based company love the trust and flexibility they're given—half telecommute weekly. A supportive culture, NetApp offers five days of paid volunteer leave a year, lengthy time off for new moms (28 weeks) and dads (12 weeks), health-care coverage for autism, and $11,390 toward adoption. |
| Stanley; Arlington; stanleyassociates.com; Government IT contracting | 995/4,649 | One of Fortune's 100 Best Companies to Work For, Stanley has everything from a program that awards grants to nonprofits that employees support to "lucky paychecks" that come with gifts to bicycles employees can use for exercise or errands. Projects—which might help Americans get passports or help the military keep track of medical records—are a source of staff pride. |