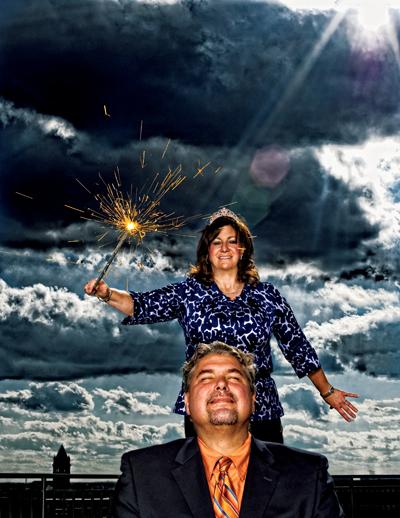 >> Click here to see all the Great Places to Work
According to a survey by Salary.com, low pay is the number-one reason why people leave a job.
These firms don't have that problem. Like many of our Great Places to Work, they share their good fortune fairly with employees.
At the Midtown Group, a DC staffing and executive-search firm, owner Helen Stefan Moreau not only pays her staff well, but she treats them to free massages, sabbaticals, incentive trips, and at least four weeks' vacation. Some employees earn a year's lease on a car—usually a BMW or Mercedes.
"I won a trip to the Bahamas and took my two children—all paid for," says Midtown's Tasha Manzano. "We have an annual awards dinner where no one walks away empty-handed. Midtown values all employees."
Among the generous benefits at Systems Planning and Analysis, which provides objective analysis to the Navy and the Departments of Defense and Homeland Security: Ten percent of each employee's salary is put into a 401(k).
"I have worked at other places where the bottom line was more important than the employees," says SPA's Cheryl Wilson. "But our president says, 'Our most important assets go home every night.' And that is the way we are treated."
Other workplaces where surveyed employees were extremely happy with pay and benefits: Decisive Analytics Corporation, Definitive Logic, Eagle Hill Consulting, the Educe Group, 5AM Solutions, HireStrategy, Integrity Applications Incorporated, Ntiva, Spider Strategies.
| Organization; Location and Web Site; What It Does | Full-Time Local Staff | Staff Score on Pay (7=Top) | Generous Benefits | Besides Nice Pay and Benefits, What Makes It a Great Place to Work? |
| --- | --- | --- | --- | --- |
| IJIS Institute; Ashburn; ijis.org; Nonprofit that provides technical assistance and training to government | 23 | 6.57 | Bonuses; up to 7% of salary put into 403(b) account. | A nonprofit where staffers feel well paid? They also say they're listened to and respected, allowed great flexibility and opportunity, and involved in challenging work. The small staff all goes to lunch for someone's birthday. |
| The Midtown Group; Northwest DC; themidtowngroup.com; Staffing and executive search | 21 | 6.78 | Can win year's lease on a BMW or Mercedes. | No rewards are spared: incentive trips, bonuses, quarterly prizes, happy hours, and sabbaticals. Everyone starts with 22 vacation days—but can earn more. |
| Portal Solutions; Rockville; portalsolutions.net; IT consulting focused on Microsoft SharePoint software | 31 | 6.69 | 5-to-30% annual bonuses; 5% of pay put into 401(k). | At this growing firm—it expects to double in size within a few years—employees love the chances they're given to learn and advance. Everyone telecommutes at least once a week; free breakfast on Monday, lunch on Friday. |
| Systems Planning and Analysis; Alexandria; spa.com; Government contracting | 437 | 6.50 | 10% of salary in 401(k); $8,000 tuition reimbursement. | The firm lives by its motto: "Our best assets go home every night." Almost everyone enjoys flex hours, and lots of gestures—from yoga classes to half-day-Friday options to private offices for nearly all—make them feel valued. |
| The Tauri Group; Alexandria; taurigroup.com; Analytic consulting for homeland security, defense, and space enterprises | 124 | 6.63 | Profit sharing, bonuses, long-term-care insurance. | The Tauri Group shares its wealth beyond its staff: It gives 5% of profits to charity, and every staffer gets one paid day a year to volunteer. Employees prize the firm's ethics, the open environment where opinions are freely shared, and work that has an impact on national security. |
| ViON Corporation; Georgetown; vion.com; Enterprise storage hardware/software | 65 | 6.74 | 25 vacation days; 6% 401(k) match; annual bonus. | Employees—most of whom are engineers—like the autonomy and flexibility and the fact that ViON keeps them abreast of technology. Free parking in Georgetown and free gym membership also help keep turnover under 5%. |