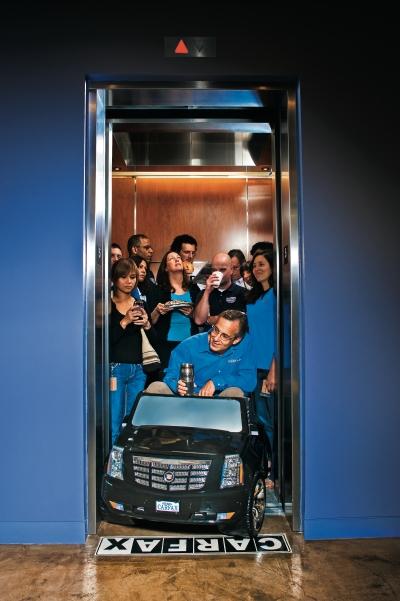 >> Click here to see all the Great Places to Work
At Carfax, employees sometimes sing for their supper.
Every Friday, the staff gets a free catered lunch. Once a month during lunch, there's a crazy contest such as a relay race or a pie-eating challenge. Recently, during a talent show, one team dressed in drag—à la the Redskins Hogettes—and did a provocative song-and-dance routine.
It's all part of a larger culture that embraces everything from Halloween costumes to practical jokes—one colleague left a dead mackerel in another's locker.
"I haven't been this happy at work since I was a lifeguard," says Carfax account executive Diane Beran. "And this pays a lot better."
While a culture like this isn't right for everyone, it's also not all play and no work. The fun is often a way to break up days that can be fast-paced.
Work-hard, play-hard companies tend to attract young, energetic professionals who love collaborating in teams and who often get together outside of work.
The Motley Fool has employee clubs for dog owners, wine lovers, guitar players, rock climbers. As at other play-hard firms, the company has no dress code—staffers can wear jeans and flip-flops.
These offices can be colorful. At CustomInk.com, some walls are blue and orange and work areas are decorated with everything from Redskins helmets to Jerry Garcia posters to Hello Kitty collections. Rooms are named for Internet terms: A conference room is called Blog; the kitchen is Download. The CustomInk.com lobby? It's called Home.
| Organization; Location and Web Site; What It Does | How Do They Play Hard? | Full-Time LocalStaff | Vacation Days to Start/Max | Typical Dress | Besides Being a Fun Culture, What Makes It a Great Place to Work? |
| --- | --- | --- | --- | --- | --- |
| Carfax; Centreville; carfax.com; Provides used-vehicle-history reports | In-office putting green, basketball, darts, and Wii; pie-eating contests; NASCAR-watching parties. | 241 | 15/30 | Casual | Staffers are driven by the mission—helping consumers buy safe, reliable used cars. Free lunch every Friday and the fact that the firm is growing don't hurt. Turnover averages just 5% |
| CustomInk.com; McLean; customink.com; Web site for custom T-shirts and other products | Dress Up Like Your Supervisor Day; Art Night to paint or make pottery; lots of snacks. | 232 | 20/25 | Casual | This fast-growing firm hires lots of new grads and promotes them quickly; there's a professional-development coordinator. Free breakfast on Mondays and lunch on Fridays. Gave $60,000 last year to charity. |
| Dataprise; Rockville; dataprise.com; Technical services and support for small-to-medium-size businesses | Game room with Wii and Rock Band; monthly events such as happy hour and kickball. | 103 | 15/20 | Business casual | This 14-year-old firm says it has never laid off an employee or frozen salaries. It's an open culture—the CEO has lunch with one employee each week. Frequent recognition and lots of charitable work instill a positive vibe. |
| Merritt Group; Reston; merrittgrp.com; Public relations for technology companies | Volleyball; "chill out" room with pool table and air hockey; committee-planned outings. | 21 | 20-30/30 | Business casual | Employees feel challenged and thanked for their efforts—80% say the pay is higher than the industry average. They give back, too, with pro bono work and one volunteering day a quarter. |
| Métier; Arlington; metier.com; Portfolio-management software and consulting | Unusual bonus: private flying lessons with the CEO. Also Wii, Ping-Pong, massage chairs. | 49 | 15/30 | Usually business casual | One of the nation's fastest-growing firms, Métier gives new grads lots of responsibility. Other perks: $100 monthly transportation subsidy, "green" initiatives, open office with no cubes. |
| The Motley Fool; Alexandria; fool.com; Financial advice through Web site, books, syndicated column | Intern "Olympics"; massages; cake day; movies; game room; weekly soccer and basketball. | 210 | Unlimited | Casual | With unlimited vacation and flex hours, the Motley Fool is an easygoing culture. Managers encourage everyone to go outside on nice days—and never schedule meetings after 3 in summer. Turnover is just 6%. |