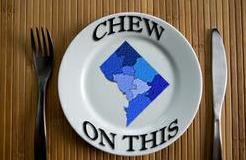 On the New York Times' You're the Boss blog, first-time restaurateur Bruce Buschel is writing "The Start-Up Chronicle," which documents the making of his Southampton, New York restaurant. Last month, he posted a two-part list of 100 do's and don'ts for his servers, and restaurant-industry controversy ensued.
The list runs the gamut from hygiene (number 12: Do not touch the rim of a water glass. Or any other glass.) to attitude (number 58: Do not bring judgment with the ketchup. Or mustard. Or hot sauce. Or whatever condiment is requested.).
We know everyone has pet peeves when they eat out. So, we want to know your thoughts on the list: Would you add any rules or take anything off? Servers, please chime in, too. Are Buschel's rules realistic or idealistic? Let us know your thoughts in the comments!