Devil's Dream by Madison Smartt Bell
In the opening scene of Forrest Gump, after the bit about the box of chocolates, Tom Hanks natters about the great Civil War general turned Ku Klux Klan leader Nathan Bedford Forrest, for whom he was named: "Mama said the Forrest part was to remind me that sometimes we do things that, well, just don't make no sense."
The inconsistencies of General Forrest—that saddle-bound warrior whom historian Shelby Foote dubbed an "authentic genius" yet whose postwar shenanigans cast a pall over his military heroics—are on display in Baltimore author Madison Smartt Bell's new novel, Devil's Dream.
Bell's Forrest is a shrewd slave master smitten by a slave woman, a teetotaler who gambles weekends away, a battlefield prodigy whose antics inspirit his soldiers while angering his superiors, a devoted Rebel unsure of what he's fighting for.
There are vivid scenes (Forrest finger-plugging his horse's gunshot wound at Missionary Ridge) and descriptions ("a copperhead poured itself over the edge of the stone"). Fans of Bell's fictional trilogy about the Haitian Revolution will welcome Henri, a distant relative of Toussaint Louverture who voluntarily joins Forrest's ranks after failing to incite a slave insurrection with John Brown. "Bedford Forrest is a man I can follow," Henri explains. "I don't know if I can really tell you why that is."
Atop his steed, with saber unsheathed, Forrest could rope the most sundry band to trail him into battle. Bell shares that gift: You'll gallop along with him, chapter after chapter.
The Lingua Franca of Ninth Street by Randall Horton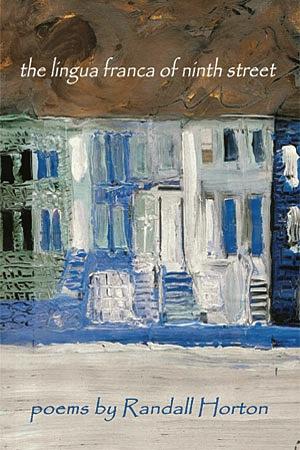 Toss aside your notions of poets swooning over starlight on windswept hillsides. The props in Randall Horton's poems are razor wire, cigarette butts, and cinder blocks, the haze of weed smoke, the stripes of memory. His new collection provides a haunting and memorable tour of alleyway DC, a place where leaves falling to littered sidewalks cry out "dear mercy." A broken place where words are the only splint.
Horton came to poetry late, after doing prison time. He went on to study at Howard, then earned an MFA from Chicago State and a doctorate from SUNY Albany. His first collection, The Definition of Place, mined his family's heritage in rural Alabama.
In The Lingua Franca of Ninth Street, much of which is set around DC's U Street/Cardozo neighborhood, he tackles his troubled history, from prodigal son to would-be professor:
"Years ago I occupied this place, / a collective crucible for anguish, / legal pad & see-through pen, searching / for the correct combination of alphabets / to help me escape. How do I say / welcome me, I am your brother?"
Sonic Boom by Gregg Easterbrook
The good news: Boom times are coming. The bad? So are belly-ups and emotional breakdowns. In the future Gregg Easterbrook envisions in Sonic Boom, his primer on post-recession economics, social progress (better education, fewer wars) and social insecurity (job worries, financial chaos) coil to create a freer, more prosperous—and far more stressful—world.
"We would all like a slower, more predictable life," writes Easterbrook, "and that's just not going to happen."
With the plain, unsparing logic of his Atlantic features and Tuesday Morning Quarterback columns on ESPN.com, Easterbrook—who lives in Bethesda—navigates our coming conundrum, leaving equal cause for optimism and alarm. In the process, he trumps a kind of nomadic entrepreneurship that takes cues from visionaries like Warren Buffett and Google's Eric Schmidt and companies like Brazilian aircraft manufacturer Embraer that have breathed new life into communities on the brink of obscurity by spiriting change.
Off the Shelf: An Excerpt From a Classic Washington Book
In Christina Stead's 1940 family saga, The Man Who Loved Children, bureaucrat Sam Pollit, a renaissance man for whom a large family is the ultimate status symbol, delivers an ebullient soliloquy that displays his ego, ambition, and self-delusion:
" 'Going to glory,' said Sam: 'I've come a long way, a long, long way, Brother. Eight thousand a year and expenses—and even Tohoga House, in Georgetown, D.C., lovely suburb of the nation's capital; and the children of poor Sam Pollit, bricklayer's son, who left school at twelve, are going to university soon, under the flashing colonnades of America's greatest city . . . yes—I feel sober, at rest. . . . I must be careful not to rest on my laurels now—haste not, rest not! I feel free!' Sam began to wonder at himself; why did he feel free? He had always been free, a free man, a free mind, a freethinker. 'By Gemini,' he thought, taking a great breath, 'this is how men feel who take advantage of their power.' "
More>> Capital Comment Blog | News & Politics | Party Photos