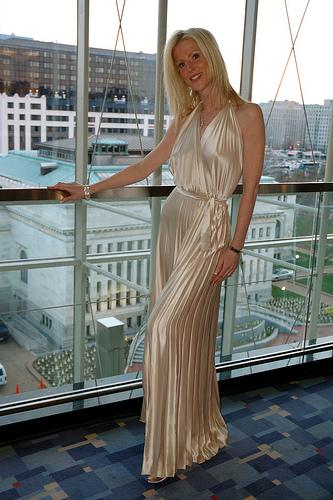 For more of our past coverage on Michaele Salahi, click here.
Michaele Salahi, former model and chair of the spring strutting ritual (and polo match) America's Polo Cup, explains how to pose and what to wear to this season's outdoor sporting events in Virginia.
Photo taken at the recent Leukemia & Lymphoma Society annual ball. (See more photos from the night here.)
Who: Michaele Salahi, makeup consultant, Oasis Winery owner with husband Tareq, America's Polo Cup chair, and the "face" for Virginia.org's Wine Getaways ad campaign.
What she's wearing: Oscar de la Renta from Neiman Marcus.
How would you describe your style? "Classic and feminine with a slim rocker edge. I'm addicted to white clothes, and I love stilettos."
Favored designers: "Cartier, Chanel, Versace, Jimmy Choo, Dior."

What do you wear on a typical day? "Fitted skinny jeans, Dior or Prada boots, and a fitted top with a jacket."
Any tips on styling and posing? "Be yourself! Find your very best side that the camera loves—everyone has one—and work it! Always make sure to be confident in who you are, stand tall with your shoulders back, and smile. Your personality within is what shines in the camera's lens."
What will people be wearing to the America's Polo Cup? "I love to wear a dress to the event. Women will wear dresses, pantsuits, hats, stilettos, flats. Hats are key for the ladies—you will see so many fantastic styles. That is what I love most about the event. Men will often wear a button-down and a jacket."
Rachel says: Michaele always looks glamorous, and she definitely knows how to pose! It's important to know that you can be a little bigger than life in a photo—shy never looks right. As for the spring events in Virginia, I think the general rule is the preppier the better. The hats are the best part.
Sidewalk Style is written and photographed by Rachel Cothran of street-fashion blog projectbeltway.com.
For more nightlife, fashion and arts & events posts, click here.