The Hilton Washington has been undergoing a major renovation for the past two years that has seen parts of the hotel stripped down to the studs. Almost nothing has been spared in the overhaul, and new spaces in the Dupont Circle hotel are being added. The price tag: $140 million.
The work is expected to be completed by late spring, but some spaces, such as some of the 1,070 guest rooms, are already open and operational. The new rooms make better use of space than the old ones—sliding bathroom doors replace swinging ones, and under-window heating and cooling systems have been built into the wall, creating a few extra feet of floor space. The updated bathrooms feature dark-granite countertops, sleek fixtures, and dark-wood cabinets. The same wood appears in the bedroom, but the color palette is brightened by lime pillows and blankets, a multicolored carpet, and hints of blue in the window curtains. The same color scheme will carry throughout the hotel, including the new lobby, which is set to be turned around in the next few weeks.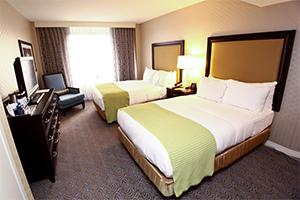 A new 225-seat restaurant and bar called the District Line is due to open next month. Hotel chef Andre Coté will head the kitchen. The bar area will feature long communal tables, which hotel managers hope will encourage guests to perch for tapas and beer while they tap on their laptops. More likely, guests with work to do will head to the new Starbucks, which is being added inside the hotel in the existing 1919 Grill space.
The Heights Executive Center is a new addition. The 10,000-square-foot conference center will have nine meeting rooms fitted with ergonomic chairs, whiteboards, recessed projection screens, credenzas, and more. There'll be pre-function and break areas plus access to the new outdoor courtyard and event space, which will feature fire pits, sitting areas, a garden, and a water feature.
The hotel is also building an expo space called Columbia Hall that's separate from the existing International Ballroom. With 30,000 square feet of dividable space—the hotel is installing movable walls—Columbia Hall will be able to accommodate huge expos with more than a hundred vendors, or a meeting with a dozen participants. In the hotel's former configuration, business functions were staged in the 36,000-square-foot ballroom, which was not able to be divided—the room was all-or-nothing in terms of size. "The new hotel will separate social and business functions and accommodate groups of all sizes," says general manager Steve Cowen. "We'll have much more flexibility."
The Hilton didn't overlook the details, either. Even the gold-and-mirror elevator bank is getting a facelift.
"We really listened to feedback from our guests and tried to give them what they asked for," says Cowen. What about the concrete Brutalist exterior? "That's staying."