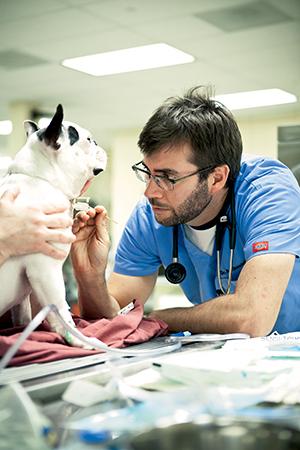 It's 3 am, and Reggie's making progress. The year-old whippet still needs help standing, but he has started eating from a veterinary tech's hand. Days earlier, Reggie was on the operating table, undergoing surgery for a broken leg, when he went into cardiac arrest.
It took 20 minutes of CPR, four shocks with a defibrillator, and 24 hours on a ventilator to save him. Now vets working the overnight shift at SouthPaws Veterinary Emergency Center are testing Reggie's reflexes to see if he's regained neurological function. It's slow going, but the eating is a good sign.
If it weren't for the occasional bark or meow, the 24-hour CritiCare department at SouthPaws in Fairfax might pass for the intensive-care unit at a hospital. Stainless-steel exam tables glint under the lights; heart monitors and oxygen machines beep. The center's CT-scan machine was built for people. A few cages down from Reggie, a vet checks on Beans, a beagle mix who mistook her owner's inhaler for a chew toy.
According to the American Veterinary Medical Association, pet owners spend $25 billion annually on veterinary care. Emergency vet centers have been popping up all over the country—there are ten in this area—offering everything from blood transfusions to hyperbaric oxygen chambers, which can help treat lung damage.
By day, SouthPaws is a specialty center, with vets certified in oncology, ophthalmology, and holistic healing. When most vets close for the night, the hospital's critical-care teams are just getting started, often treating pets who've been bitten by other animals, have been hit by a car, or have eaten something toxic. A wall chart shows how much chocolate a 20-pound dog would have to eat to get sick; another shows poisonous plants.
"When it's two in the morning and a dog has a seizure, we have people here who can deal with it," says Matt Antkowiak, a SouthPaws vet.
Antkowiak once treated a Lab who had impaled himself on a stick playing fetch and came in with his tail wagging. The doctor has seen animals who have eaten Super Glue.
A man recently brought his bull terrier to the ER, hoping a transfusion would slow the progress of his dog's cancer. He mentioned that an exterminator had set traps in their home, a detail that piqued Antkowiak's curiosity. Tests showed the dog was suffering from rat-poison ingestion, not cancer.
"I love the Sherlock Holmes, CSI side of being a vet," Antkowiak says.
A typical overnight in the SouthPaws ER—with blood work and x-rays—costs $1,000 to $1,200. A surgeon is always on call. If a large dog gets hit by a car and requires open-chest surgery, the cost could go up to $8,000; a cat who swallows string, which can damage the intestinal tract, might need a $3,000 operation and a $2,000 hospital stay.
By 4 am on this November morning, Reggie and the other overnight patients are quiet in their cages. A doctor is careful not to disturb Reggie's paw, wrapped in a baby-blue cast, as she tucks fresh bedding beneath the sleeping dog, checks his vitals, and gives him a scratch behind the ears. The emergency staff knows Reggie's recovery is unlikely—he suffered brain damage—but they're hopeful.
SouthPaws vet Dondi Dahlgaard once reached down a dalmatian's throat—the dog's tongue had already turned blue—and yanked out a rubber ball. "He took a giant deep breath in," she says. "We all just cried."
This article first appeared in the January 2010 issue of The Washingtonian. For more articles from that issue, click here.