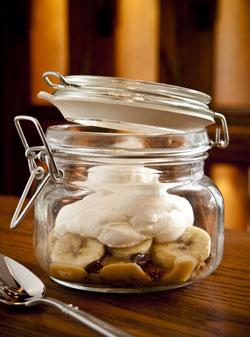 At the downtown DC gastropub Againn, the most popular dessert is the creamy banoffee pie, a confection made with graham-cracker crumble, chocolate ganache, caramelized milk, and sliced bananas (the name is a hybrid of "banana" and "toffee"). At one reader's request, we asked chef Wes Morton to share his recipe, which he says is "the British answer to banana-cream pie." Instead of making it into a classic pie, Morton builds the layers in a Mason jar. The key, he says, is to just have fun with it: "As long as it contains bananas, toffee, and chocolate, you're good to go!"
Have a restaurant recipe you'd like sniffed out? E-mail recipesleuth@washingtonian.com
Banoffee Pie
Makes 4 servings
Make the graham-cracker crumble:
1 cup butter
1 cup flour
1 cup light brown sugar
1 cup graham-cracker crumbs
1 teaspoon salt
Line a baking tray with parchment paper.
In a large bowl, beat all the ingredients together to form a dough. Chill in the refrigerator for about 2 hours. Preheat the oven to 350 degrees. Spread the dough out into a thin layer on the tray. Bake for 5 minutes. Cool at room temperature. Bake again for a few more minutes. Let cool again.
Make the chocolate ganache:
¾ cup dark chocolate, preferably Valrhona
1 cup heavy cream
¾ cup sugar
1 tablespoon butter
Place the chocolate in a mixing bowl. Bring the heavy cream and sugar to a boil and pour over the chocolate into the mixing bowl. Stir together gently to mix the chocolate, cream, and sugar evenly. Stir in the butter to emulsify.
Make the caramelized milk:
2 14-ounce cans sweetened condensed milk
Preheat the oven to 350 degrees.
Place the condensed milk in a medium baking dish and cover with foil. Place dish inside a larger poaching pan. Add water to the poaching pan until it reaches halfway up the sides of the baking dish. Bake for 2 hours, stirring every 30 minutes. Continue this process until the milk turns to a light caramel color. Let cool.
Assemble the pie:
4 12-ounce Mason jars
2 large bananas, sliced
Fresh whipped cream to taste
Evenly distribute the graham-cracker crumble on the bottom of each Mason jar. Evenly spread the chocolate ganache and caramelized milk on top of the graham-cracker layer. Add slices of fresh bananas to form an even layer. Add one more layer of chocolate ganache and caramelized milk. Top with fresh whipped cream.
Subscribe to Washingtonian
Follow Washingtonian on Twitter
More>> Best Bites Blog | Food & Dining | Restaurant Finder