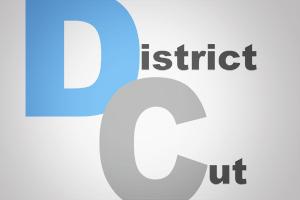 In its first incarnation, District Cut, a local men's-fashion blog, was launched as a high-school project. Blogger A.—he keeps his full name and face off the Internet—was one of its founders. "We were the guys in the class who decided to take the easy route by doing a blog," he says. "It became something I loved to do."
The group cultivated a regular following, and after the project ended, A. decided to keep the site going. He relaunched it under the name kidGQ, a nod to the publication he saw his father read when he was growing up and one he describes as "Vogue for men." Unfortunately, GQ publisher Condé Nast wasn't amused; the magazine powerhouse sent a cease-and-desist order, forcing A. to come up with a new name. That's how District Cut was born.
"When I talked to other bloggers about the legal issue, they told me it meant that I was doing something right and getting noticed," says the 19-year-old Catholic University student. "Now I take it as sort of a rite of initiation."
A. fills his site with photos from magazine fashion spreads and style icons, product reviews, street-style features, and even videos. "The content has grown with my age, but now I think it has reached its peek with modern, up-to-date information on menswear and consistent, contemporary advice that all men in Washington could use," he says. His audience ranges from fashionable Hill staffers to bearded hipsters.
We caught up with A. to get his take on Washington style and his advice for sartorial newbies. Read on for where he shops, his fashion pet peeves, and much more.
Five words to describe your style:
"How about four words and a phrase: 'modern meets the '60s, effortless, tailored, and creative-yet-conservative."
Five words to describe men's style in Washington:
"If you ask someone outside of Washington, they'd probably say 'a bunch of the same.' That's five words, right? But coming from an insider's point of view, you have to show respect for the more creative and youthful side of Washington that really has been showing its head since Obama moved down the street. Men's style in Washington isn't at all as stereotypical as people might think."

Number of items in your closet:
"I hope people don't judge me by this, but too many to count. I'm a strong advocate of keeping a well-edited closet, but it's one of those 'do as I say, not as I do' type things."
Total cost of the outfit you're wearing right now, including shoes:
"Ralph Lauren Ranger Shearling boots, $175; slim-fit navy-blue trousers from Zara, $50; John Varvatos T-shirt, $165; and a trench coat from United Colors of Benetton, $150. That's a grand total of $540. Seems like a lot, but thank God I'm not wearing my Burberry trench."
Three basics every guy should have in his wardrobe:
"What I like to call the little black suit—the closest thing men have to a woman's all-purpose little black dress; a pair of great fitting, quality jeans; and the perfect, simple T-shirt. When you find the right one, you'll know it."
Trend you're most excited about for spring:
"The biggest trend this spring is undoubtedly denim, but I'm a little over it. Denim for spring—groundbreaking! I'm more excited about the insurgence of color. Calvin Klein, Michael Kors, Salvatore Ferragamo, and Paul Smith all showed pastel suiting for spring, and even Louis Vuitton showed a whole spectrum of colorful footwear. I'd like to see men experiment more with color this spring."
Biggest fashion pet peeve:
"It pains me to see those who neglect quality and size proportion. So many men in Washington could upgrade their look if they'd simply buy for their size, with quality in mind."
Best advice for the fashionably inept:
"Be trend-conscious when you buy clothes, be style-conscious when you put them on, and then let confidence kick in."
Best accessory for a guy:
"A hat. It can make the most simple, uninspiring outfit look whole and complete."

Most fashionable Washington neighborhood:
"The U Street corridor and Logan Circle. It offers a variety of fashion that's all about self-expression, and I think that's what makes it a unique area in Washington. You head downtown and people dress for their job. You head to Capitol Hill and people dress for public approval. You head to the Mall and people dress purely for comfort, courtesy of tourists. But head to U Street and people dress to express who they are."
Favorite Washington boutique for a splurge:
"I don't know if you could call it a splurge, but Treasury Boutique has a knack for having vintage designer pieces at abnormal prices. And by abnormal, I mean a vintage Missoni sweater for 50 bucks. That screams abnormal!"
Where you go for a bargain:
"The Gap. It's my favorite store because they offer the best basics, and it's always on trend. I've consciously made my closet resemble the racks at the Connecticut Avenue Gap."
The most money you've ever spent on an article of clothing:
"My Gucci loafers, which were just under $400. They were a graduation present to myself and well deserved if you ask me! But I'm more familiar with being given expensive clothes from my generous parents, and my Burberry trench coat tops the list at around $1,500."

Finish this sentence: "I never leave home without my . . . "
" . . . confidence. It's the only accessory that complements any outfit."
Favorite local fashion blog besides your own:
"Curator of DC Style because it offers proof that Washington is more than just politics. I'm secretly hoping to be one of his Street Style subjects. Secret's out!"
Check back next week for Foggy Bottom neighborhood bloggers Kat and Jared from FoBoBlo (get it?). We get their picks for where to date, drink, and dine in their neck of the woods. Check back on Wednesday for the interview!
Earlier:
Brunch and the City
Not Derby Pie
All Blogger Beat interviews
Have a favorite blogger you'd like to hear from? Send suggestions to eleaman@washingtonian.com.
Subscribe to Washingtonian
Follow Washingtonian on Twitter
More>> Capital Comment Blog | News & Politics | Party Photos