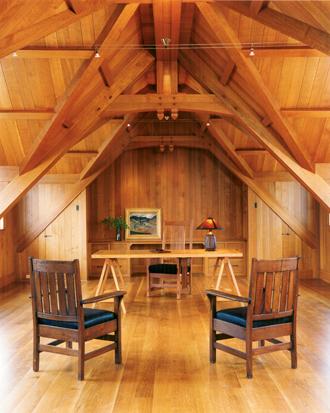 Remodeling an existing space costs much less than adding onto a house—so lots of homeowners look at attics when they want more square footage.
DC architect David Jones saw potential in the attic of this English Arts and Crafts–style home in Potomac. The space, over a detached garage, had two important pluses for converting an attic: windows and high ceilings.
Jones installed a row of dormered windows along the front to mirror the existing ones in back. The new windows shower the room in natural light and provide cross-ventilation to make the room feel airier. Jones expanded the stairwell and added insulation as well as heating and air conditioning. A built-in credenza and closets tucked under the eaves offer storage.
A warm color palette—the timbers, ceilings, and floorboards are made of honey-hued white oak—helps create the peaceful getaway the owners wanted. Says Jones: "It feels like you're in a small chapel."
Resources
Architect: David Jones Architects, 1739 Connecticut Ave., NW; 202-332-1200.
Construction and carpentry: O'Neill Development Corporation, 11 Russell Ave., Gaithersburg; 301-840-9310.
Wood: White oak.
Lighting: Bruck Lighting Systems; brucklighting.com.
Lots of Room in the Rafters
The top floor of this early-20th-century American foursquare in Chevy Chase DC was once unfinished storage space. Today it doubles as a guest bedroom and a his-and-hers home office with a pullout bed, two desks, and a full bath.
Bethesda architect Greg Wiedemann used every inch of the 25-by-25-foot room, including corners and eaves. The bed slides into what would be dead space under the ceiling. In two of the corners, L-shaped desks are surrounded by built-in shelves; in the other two, closets provide extra storage. A window seat tucked into a dormer is a nice place to read.
"We wanted the third floor to really feel like part of the house," says Wiedemann. "The result is they got an entire living level that didn't exist before."
Doing It Yourself: Converting an Attic
An unfinished attic can be a good spot for a guest bedroom, office, or rec room. Here's what to consider.
Ceiling Height
When Bethesda architect Greg Wiedemann's clients ask about an attic conversion, he walks upstairs. "Head room is the first litmus test," says Wiedemann. Code requires that the attic have at least 70 square feet of space, half of which must be at least seven feet tall. Low-clearance areas, such as corners and eaves, can be used for storage.
Stairs
According to code, you're not allowed to use a ladder to a loft or attic. There must be a staircase, and regulations spell out how steep it can be and the necessary head room—which must be at least six feet eight inches. If you're working within a tight space, talk to your contractor about installing a spiral staircase.
Windows
Every habitable room has to have at least one window. If the space is going to be used as a bedroom, fire safety requires that it be large enough for escape.
Floors
If an attic was built for storage, the floor may need to be reinforced to support a heavier load.
Insulation
Attics tend to be stuffy in summer and drafty in winter. That's because in many older homes attics aren't insulated or aren't insulated well. When considering the cost of an attic conversion, factor in items such as insulation, ceiling fans, and heating and air conditioning.