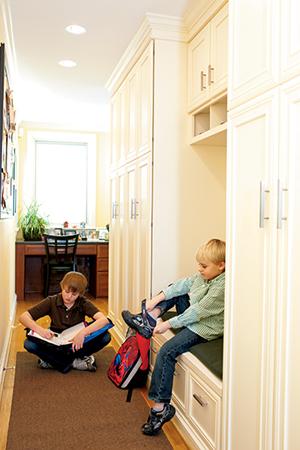 Before their Bethesda Colonial was renovated, Tammy and Ed Durbin were fighting a losing battle against clutter. Their family of four used the home's side door, which opened directly into the kitchen, as the everyday entrance.
"We have two young boys," says Tammy. "Every time they came in, sports equipment, backpacks, muddy shoes, coats, and mittens were all over the floor."
The couple wanted to update and expand the kitchen as well as add a mudroom with lots of storage. To make space for a bigger kitchen, Cabin John designer Anthony Wilder bumped the house out about ten feet. "But we still didn't have the room for a mudroom," says Wilder. "That forced us to be more creative."
Wilder added a floor-to-ceiling wall of built-in storage that greets the Durbins when they walk in. The wall has four closets—one for each family member—as well as drawers, hooks, and a seat where kids can sit down to put on shoes or stash boots.
The wall doubles as the anchor of the newly redesigned kitchen—on the opposite side, it's outfitted with cabinets, a range, two refrigerators, and a steam oven. A new computer desk on the far end of the entry hallway is used to organize the Durbins' bills and other mail.
Tammy Durbin says the wall of built-ins has helped keep the whole house neat.
"Hallways with pictures and paintings on the walls cut out large swathes of space," says Wilder. "This hallway just happens to be a mudroom."
Resources
Contracting, carpentry, and design: Anthony Wilder Design/Build, 7913 MacArthur Blvd., Cabin John; 301-907-0100.
Paint: Benjamin Moore Suntan Yellow (#2155-50), matte finish.
Cabinet hardware: Ferguson Bath, Kitchen & Lighting Gallery.
Space Under the Stairs
The hallway connecting two garages and a kitchen was wasted space in a McLean home. An under-the-stairs closet was awkward—the slant from the stairs was too severe for the closet to be usable—so coats, bags, and shoes collected on the hallway floor.
The homeowners decided it was time to get organized.
They called Bethesda-based Case Design/Remodeling. Designer Colleen Ryan worked with the family of four on a plan to create mudroom storage. "As we decided what the space would be used for, they realized they were getting rid of a closet, so they needed long-term storage, too," says Ryan.
Builders removed the closet walls and installed a pair of open lockers for the kids, with cubbies for books and toys, hooks for backpacks and coats, and drawers for footwear. Ryan designed the drawer platform to stick out so the kids would have somewhere to sit while putting on shoes.
She also built a padded bench for seating—the homeowners say their 11-year-old daughter likes to read there—plus two more drawers for storing outdoor items and seasonal decor.
"It's been terrific. We can get out the door quickly because we always know where their backpacks are," says one of the owners. "Finding their homework is a different story."
Resources
Locker design: Colleen Ryan, Case Design/Remodeling, 4701 Sangamore Rd., North Plaza, Suite 40, Bethesda; 301-229-4600.
Interior design: Ame Gold, Patricia Gold Interiors, 11665 Captain Rhett La., Fairfax Station; 703-978-0780.
Cabinetry: Crystal Cabinets; 800-347-5045.
Brushed-nickel drawer pulls and hooks: Union Hardware, 7800 Wisconsin Ave., Bethesda; 301-654-7810.
Fabric for custom bench: Robert Allen, Washington Design Center, 300 D St., SW; 202-863-0404. The pattern is called Leaf Cluster, and the color is Spring.
Throw pillow: Kravet, Washington Design Center; 202-479-0144. The pattern is Beach Bow (#28589), color Rainbow (#512).
Tall Order
If you're interested in converting wasted space under a staircase into something other than a mudroom, think about what's adjacent. If the stairs are near the kitchen, you could turn the under-stairs area into a pantry. If abutting a living room, the space could be used for bookshelves. Some homeowners opt for building powder rooms under the stairs, but designer Colleen Ryan says sometimes that's not an option: "With bathrooms, you have to be careful about head clearance. Sometimes stairs are too steep to make it work."
Doing It Yourself: Makeshift Mudrooms
When designing entryway storage, think about how you'll use it—when coming home with mail and keys, after walking the dog, or with a carful of kids. Arrange the storage around how you live. If you're always setting down your BlackBerry or cell phone when you walk in the door, incorporate a charging center with outlets. If your family uses a lot of sports equipment, a bench with a pull-up lid can store items such as soccer balls.
Giving each person in the family a dedicated space keeps a room organized—if a child hangs his backpack on the same hook after school every day, he'll know where to find it the next morning. If you're messy, open spaces or lockers might not be the way to go. Enclosing the front with cabinetry or curtains would be a way to hide clutter.
Entryways that are hallways should have a focal point at the end that draws you. Tammy and Ed Durbin used a computer desk and window; artwork or a bookshelf could also work. "We try to create lines of sight so that as you're walking, there's a point of interest," says Anthony Wilder. "No one wants to walk towards a blank wall."