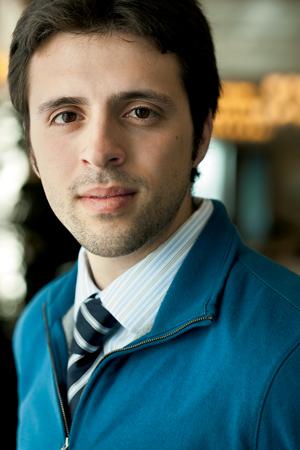 Steve Pearlstein, the Washington Post's veteran business columnist, looks around the paper's new newsroom and realizes he's probably the oldest guy on the scene. At 58, he has started a political publication, has edited a magazine, has reported on defense and economics for the Post, and now writes a column on business and economics.
"I'm not a big blog reader," Pearlstein says. About a year ago, a friend suggested he check out Ezra Klein's work for the American Prospect. "I was blown away by how good he was—how much the kid wrote—on so many subjects," he says.
Pearlstein sent samples of Klein's work to managing editor Raju Narisetti.
At 24, Klein had been writing a blog and magazine articles for the liberal American Prospect. A few weeks after he heard from Pearlstein, Post foreign correspondent John Pomfret asked Klein to have lunch with him and financial editor Sandy Sugawara. Narisetti quickly hired Klein to be the Post's first pure blogger on politics and economics.
Today Klein's blog frequently gets more hits than any other on Washingtonpost.com. He puts up about 20 posts a day—ranging from analysis and commentary to interviews—along with links to other bloggers and the occasional recipe.
Klein, now 25, usually arrives at the Post at 9 am. By then his assistant—yes, he has a personal staffer—has sent him clips from the previous night. Klein starts posting and keeps it up for ten hours. Some of his posts are quick hits; some take readers where only budget geeks dare venture. For the print paper, he's penned columns on how to cure political gridlock. Newsweek just made him a contributor. For kicks, he tweets.
"Anybody can write," he says. As for editing: "I write to publish—I don't write to revise."
Klein rose to the Post in a blink—in journalism time. He attended public schools in Irvine, California. His father is a math professor, his mother an artist. He's a middle child. At UCLA he majored in political science. "I was bored," he says. The school newspaper rejected him.
He started blogging in 2003, which helped get him noticed by editors at the American Prospect; they brought him to Washington in 2005. Four years later, the Post bit.
"He is a new paradigm," says Post executive editor Marcus Brauchli, "one we would very much like to replicate."
But is Klein a reporter, an opinion writer, or a new kind of journalist?
"I think of myself as an opinionated reporter," Klein says. More like Steve Pearlstein, he says, than like political scribe Dan Balz.
Says Brauchli: "As a blogger, he has more latitude than reporters to reach conclusions. It's inevitable we will employ more people who have that ability."
Not everyone loves Klein's writing. Slate's Mickey Kaus, himself a blogging pioneer, accused Klein of a "hectoring naiveté." Conservative blogger Michelle Malkin said she preferred "an overflowing vat of liquid radioactive waste" to sharing a stage with him.
Klein seems to be getting comfortable as a Washington insider, becoming a regular on the talking-head circuit and founding an exclusive e-mail list in 2007—the so-called JournoList—where he invited hundreds of left-leaning bloggers, journalists, and academics to bat around ideas and stories outside the public eye. Kaus calls it the Klein Klub.
But Klein has also found the pitfalls of being too public: Two years ago, he made his Twitter feed private after the blog Wonkette posted a tweet where he called NBC's Tim Russert a "spiky acid-tipped dick."
"That tweet haunts me," says Klein, who explains he was repeating an overheard comment and expected it to go to only a few friends. "I've always hated that moment because it's simply not how I write. I'm not profane."
Subscribe to Washingtonian
Follow Washingtonian on Twitter
More>> Capital Comment Blog | News & Politics | Party Photos