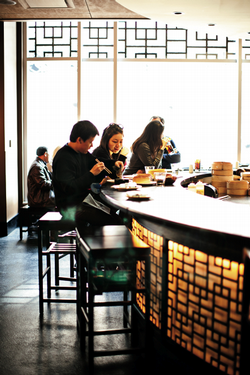 As DC's Chinatown has been taken over by mall-type stores and chain restaurants, it has become increasingly hard to find a good dumpling. And worthy dim sum? Forget it. Diners have had to hightail it to Rockville. So when the London chain Ping Pong Dim Sum was looking for its first stateside opening—there are also outposts in Brazil and Dubai—it was smart to plant itself in the neighborhood.
But before you start planning your next Sunday morning, know that despite the restaurant's name, this is to the traditional Cantonese morning feast as Beyoncé is to Billie Holiday. The darkly glossy dining room has the most buzz at dinner. There's a menu of flowering teas, but most people are sipping kumquat mojitos and other Tri Delt–friendly cocktails. And there are no rolling carts—you pencil your order on a checklist.
Pan-Asian small plates would be a more accurate name for the fare than dim sum, and as at neighbors Jaleo and Zaytinya, servers recommend three to four dishes per person—there are three pieces to most orders. But the menu is so carb-heavy—dumplings, pork buns, fried spring rolls—that you can get away with less. Only a few plates—pickled daikon and carrot, steamed bok choy—lighten things up.
A dim sum house is measured by its dumplings, and there are 13 varieties here. You can even sit at a sushi-bar-like counter and watch . . . a whole lot of steaming bamboo baskets. But the dumplings are an erratic bunch. Some have been thin-skinned and full of savor—aromatic coriander dumplings, delicate pork-stuffed shu mai—while others, such as chive dumplings and an open-faced crab-and-prawn-stuffed dumpling, have been gummy and bland. Many suffer from bad pacing: One night, four baskets of dumplings showed up at once—and quickly turned cold.
Rolling-cart classics are similarly up and down. Char siu bao, the beloved steamed bun filled with barbecue pork, was too heavy on the bread, but pork puffs—flaky pastry wrapped around the same filling—fared better. Melba-size shrimp toasts with a fiery sauce made a terrific cocktail snack, while fried rounds of finely chopped shrimp coated in shredded phyllo dough were as plain-tasting as they were visually striking.
Most consistent have been a variety of rolls, including Vietnamese summer rolls dipped in the fryer, a riff on Peking duck in a crispy wrapper, and peppery chicken spring rolls.
For dessert, there's a selection of exotic fruits such as rambutan and Asian pear—along with lychee sorbet—which were wonderful one time but past their prime the next. A mango-filled puff pastry tasted like a McDonald's apple pie gone East. Or you could finish with a bamboo steamer of what resembles the cloud-like bao. True to Ping Pong's glammed-up style, it's spilling Valrhona chocolate.