In the grandstand, people hold their breath. Men in suits and women in carefully arranged hats let their cigars burn idly, their attention focused on the 12 prized three-year-old thoroughbreds bolting across the track. But once those horses are out of the gates, the crowd spurs the 12 colts on with almost the same intensity as the jockeys on the track.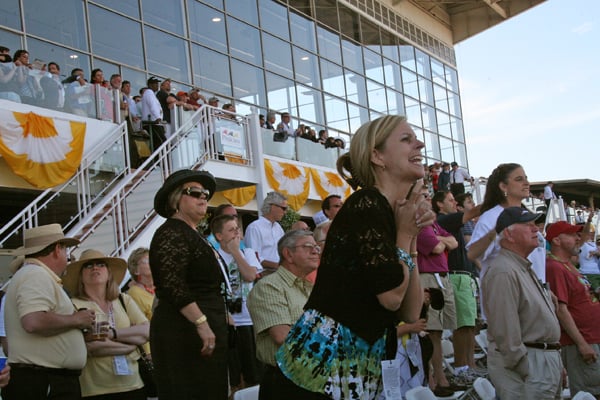 Welcome to the annual Maryland horse-racing tradition, the Preakness Stakes. Every year, thousands gather around the historic Baltimore racetrack, the "Old Hilltop," for the drunken revelry, the glamorous women, and the chance to take chances. Right now, bettor Al Hilbert isn't feeling like a million bucks—Super Saver, the horse he's rooting for, is fading. "Super Saver's got class," Hilbert mutters, more in hope than certainty, "and he's going to catch up and storm the field."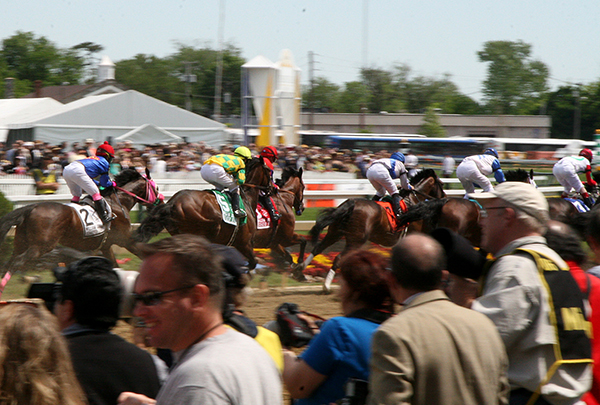 Turns out that luck won't be on his side. In a heartbreaking moment for many, Super Saver, this year's Kentucky Derby winner, will finish eighth, while Lookin at Lucky will take the crown. Hilbert, a walking horse-racing database who admits that betting has been messing up his sleep cycle since he's been out of job as an upholsterer, lost $60 Saturday. "That's life," he shrugs. "When your ticket's blown, you sit back and enjoy the race."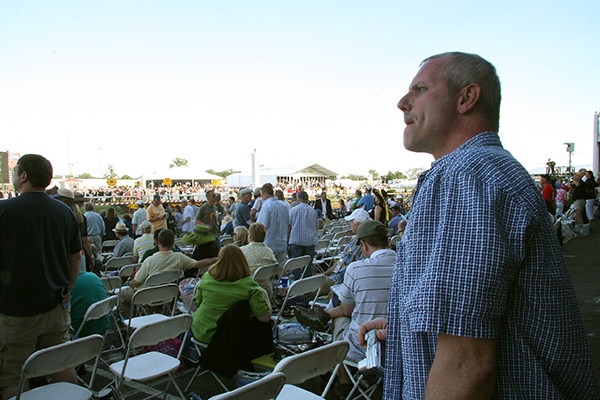 Ron Redding is playing at very different stakes. Redding, whose family has been betting on horses since he was a boy, put in more than $200 at an earlier race that day, the Maryland Sprint Handicap, for a family horse called Ravalo. Ravalo was built for sprinting, and he needs to work on stamina, Redding told me unhappily as the horse finished a disappointing third. "Winning 11 grand is okay," mused Redding, decked out in a suit and bright tie, "but $60,000 is better."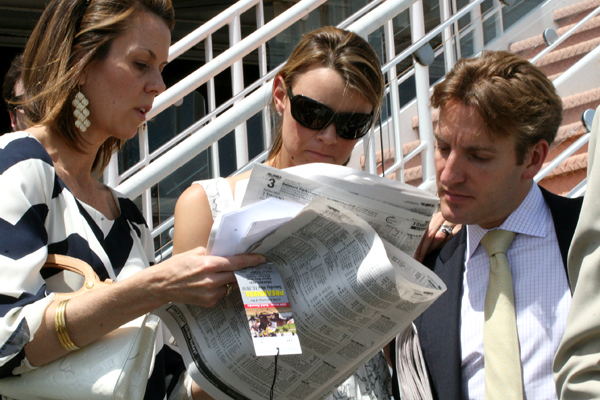 Some weren't here just for the big bucks or the fast horses. A couple parading around in Maryland colors dazzled the crowd with its Preakness pins. Racetrack junkies Jennifer Nowicki and Cameron Fleming, both New Yorkers, gushed about the crowd over the din of servers peddling Black-Eyed Susans—the cocktail made with vodka, rum, and Cointreau that's named for the state flower and is the drink of choice at the Preakness. "People here actually talk to one another. You have real tradition here. At the Belmont, they put up signs of the Empire State building and the Belmont Breeze," said Fleming, rolling his eyes as he referred to the traditional Seagram's-and-sherry cocktail of the Belmont races.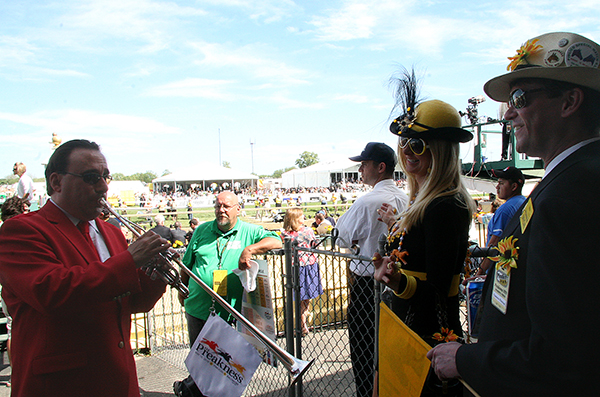 The Preakness, in its 135th year, has a storied past and incorporates the long-standing traditions of horse-racing—including a bugler that alerts spectators that the race is about to start. Sam Grossman, the bugler, was looking spiffy in an English fox-hunting costume—white britches, red blazer, and tie. He serenaded the couple with a jazzy, flamboyant snippet of "Summertime."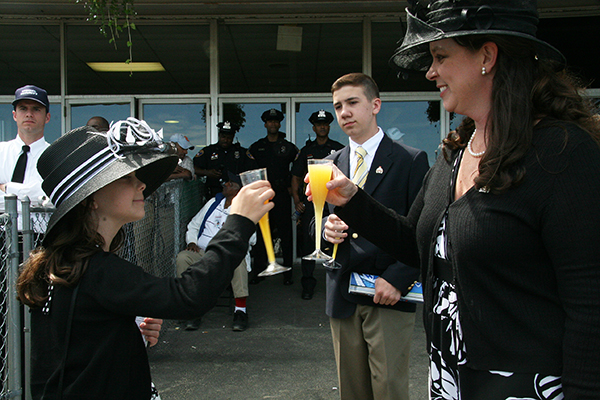 Another mainstay of the Preakness that's as much tradition as the winning horse's sash of flowers: a party on the other side of the tracks that has to do with a different kind of flesh than horse variety. More than 30,000 sweaty and sunkissed partygoers rocked out to metal and country music, cheered on scantily clad volleyball babes, and chugged booze under the watchful eyes of security guards. After the traditional bring-your-own-booze policy was banned last year, infield attendance tanked, prompting the Maryland Jockey Club, the race's organizer, to sell $20 all-you-can-drink beer mugs this year.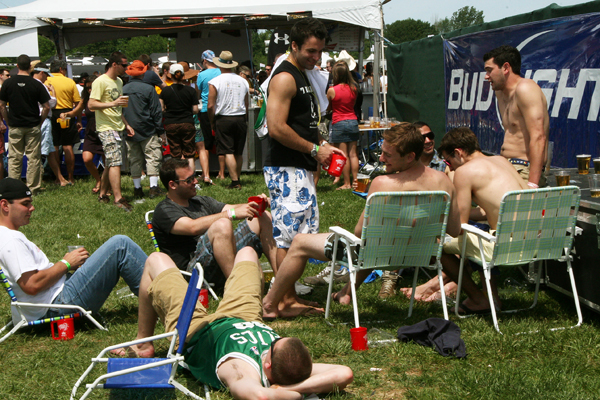 "It was awful," said Stakes Leroy, a Pimlico staff member, recalling the infamous infield tradition involving drunken people pelting cans at even more tipsy people jumping across the top of Porta-Potties, "What happened to the family atmosphere?" "Oh, I love the atmosphere," countered Paul Kowalczyk, a young finance professional there for the party. "This is my eighth beer of the day," he said, laughing.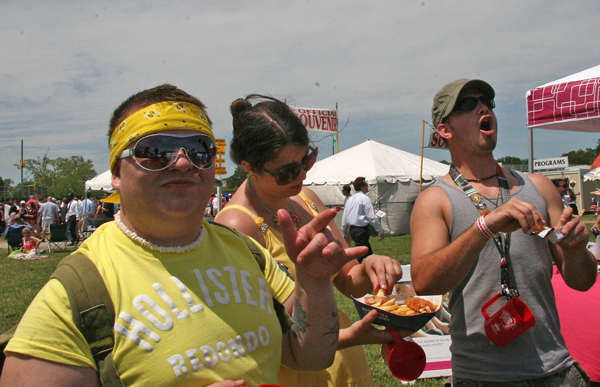 For the hardcore bettors, the revelry, whether sedate or outrageous, is beside the point. Most regulars watched the games from television screens next to betting booths inside Pimlico's main building, saving themselves the cost of grandstand tickets. When the doors opened at 8 AM, regulars—mostly solitary men—gathered to deliberate their choices and thumb through racing manuals. Among them was Joe White, a retired bricklayer who admitted he betted three times a week and complained about Uncle Sam taking his winnings in tax dollars. "It's a real bad addiction," he warned, "Don't you start."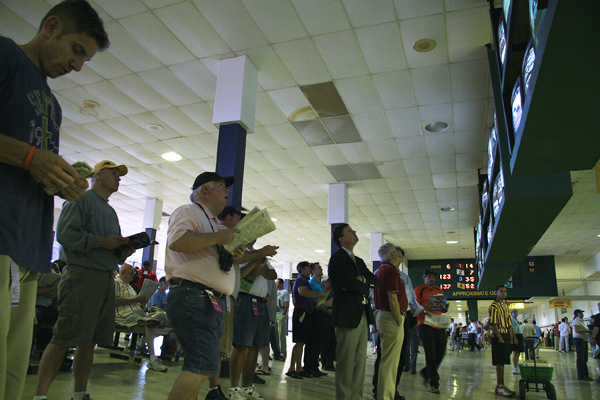 A group of three old buddies from East and West Baltimore sitting near White had made the Preakness an annual tradition. "We're here because we love the horses, we love the sport, and we love each other's company," said Vincent Cousins, tucking heartily into chicken and rice that the group brought with them. "That's our thing."
Horse-betting has been a traditionally male-dominated sport, said Jennie Rees, a Kentucky-based turf reporter who heads an informal all-female group to help women understand it better. But it's like learning a language, she said. "Once you learn the keys to unlock the program, it's so much more enjoyable."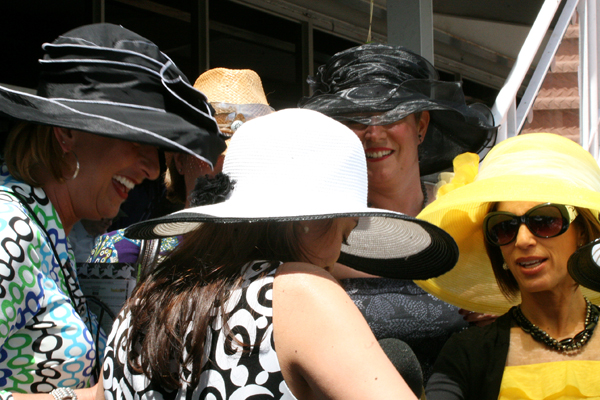 Rees held her first gathering in Maryland before the Preakness to teach women how to bet on horses. She hopes that more women will take an active role in the sport and not just watch. That way, ladies can provide scenery with their hats and dresses—and help pay for that finery with a few well-placed bets.