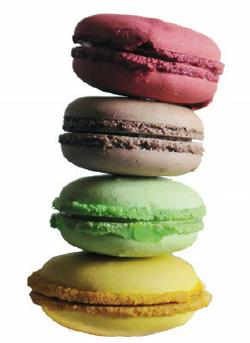 Cupcakes may be having their moment, but the proliferation of French-style macarons proves there's room for more than one petite dessert in the spotlight. Washington chefs have embraced the delicate, egg-white-and-almond-flour sandwich cookies, but can any local talent make a macaron reminiscent of those from Paris's famed Ladurée?
We tried confections from 11 restaurants and bakeries—from a frozen pack at Trader Joe's to quirky flavors such as Baileys Irish Cream at Restaurant Eve. We judged technique—a macaron should pair a lightly crisp, airy top with a chewier bottom cookie and have a judiciously applied center of buttercream or jelly—as well as flavor and looks. Here are our favorites.
At Adour, the downtown DC outpost of Alain Ducasse, the macarons are available for $22 a dozen. The vanilla-caramel variety is particularly satisfying. But when it comes to raspberry, we prefer the restaurant's larger, complimentary post-dinner macarons.
You'll find wonderful versions of chocolate and raspberry ($2 each) in the hands of another French traditionalist, Michel Giaon of Michel Patisserie. He sells them out of the Logan Circle cafe ACKC.
At the cupcake-focused Fancy Cakes by Leslie, the gigantic macarons ($1.85 each) look as if they were injected with steroids, their tops thick and bumpy. Aesthetics aside, it's clear the bakery uses top-quality ingredients—the lemon couldn't have been more deliciously tart.
Because of the wildly nontraditional flavors (chocolate/foie gras, peanut butter and jelly), we were skeptical about the options at Old Town's Restaurant Eve—and, at $8 for six, it didn't help that they were the size of a quarter. The too-sweet birthday-cake flavor didn't win us over, but the Guinness macaron slathered with luscious buttercream was a hit. A Frenchman might call the combination blasphemous, but cupcakes didn't achieve star status by sticking to plain old chocolate and vanilla.
This article appears in the May, 2010 issue of The Washingtonian.
Subscribe to Washingtonian
Follow Washingtonian on Twitter
Follow the Best Bites Bloggers on Twitter at twitter.com/bestbitesblog
More>> Best Bites Blog | Food & Dining | Restaurant Finder