Age: 35.
Hails from: Durham, Connecticut, which he describes as a "cow-tippin' town." Works in Manhattan.
Job: Owns Xie Xie, a sandwich shop that turns out Asian-accented lobster rolls and fortune cookies with yuzu cream. He hopes to expand it to many cities, including Washington.
Gael Greene moment: Speaking of that lobster roll, Sosa muses: "The flavors are pounding—like getting into the ring with Mike Tyson."
Reminds us of: Season-two winner Ilan Hall.
Education: Manchester Community College, Culinary Institute of America.
Mentor: Jean-Georges Vongerichten, whom he worked with for five years. Sosa was executive sous-chef at both Jean Georges and the original Spice Market.

Moment he'd like to forget: He once accidentally set veal bones on fire at Jean Georges, causing the dining room of Trump International Hotel to be evacuated.

Praise from on high: Alain Ducasse has kind words for Sosa, whom he put in charge of Spoon Food & Wine in Paris: "The cuisine of Angelo Sosa tells a story—his story—in a new style of his own, which is at once uninhibited, bold, arousing, and inspiring." Although Ducasse sounds as if he's narrating a cologne ad, it's still pretty badass.
Point at which his publicist should've shushed him: Sosa tells the Village Voice that his big dream is "to be a household name" and "exploit" the sandwich-shop concept.
Scorecard: 8 points for years working with the big guys, 3 for being the resident hottie, 3 for ambition and self-assuredness, minus 1 for Jersey Shore levels of hair gel. Total: 13 points.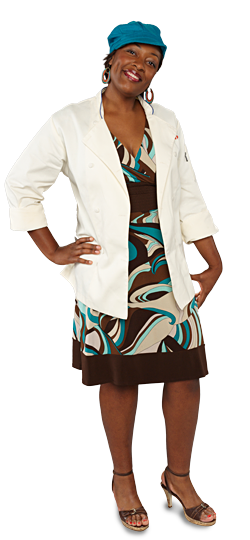 Age: 26.
Lives in: Dallas, Texas.
Job: Executive chef of Go Fish Ocean Club in Dallas, which offers a changing menu of crudo and fish with touches of Japan and Jamaica.

Guilty pleasure: Foie gras.
Sometimes tempted by: Yoga and aerobics gear from late-night infomercials.

Favorite cookbook: The French Laundry Cookbook.

Consistency meter: All over the place. Leslie Brenner of the Dallas Morning News checked into Go Fish earlier this month and left thinking, "I had trouble understanding why Top Chef would have recruited her." On the next visit, though, Brenner decided, "It's unusual to see such a young chef cooking with this kind of self-assurance, and her instincts are good."

She'll do well in a breakfast challenge because: She started her career at an IHOP at age 15.

Should have great knife skills because: She has taught culinary classes at her alma mater, the Art Institute of Houston.

Reminds us of: Laurine Wickett—the nice girl with the dimpled smile—from season six.

Scorecard: 3 points for short-order skills, 1 for Texan spunk, 1 for (we hope) having good technique. Total: 5 points.

Age: 42.
Lives in: West Bloomfield, Michigan, a suburb of Detroit.
Education: Electrical engineering degree from University of Michigan.
Job: Chef de cuisine at the Lark, where he started as a garde manger cook 16 years ago. The eclectic menu ranges from Maryland soft-shell crabs to sopapillas to Morimoto-style sablefish.

Known for: The hair! Also, excitedly chatting up his customers.
Pats on the back: He was a finalist for the "Best Chef: Great Lakes" James Beard Award in 2008 and 2009.
Trademark: Dreads that reach all the way down his back. In the kitchen, he sometimes covers them with a ballooning black chef's toque.
When he cooks, he's striving to: "Allow ingredients to sing their own song." Cue the Phish.
You'll often find him: In the garden behind the restaurant or scouring the Ann Arbor Farmers Market.
Reminds us of: Let us know if you figure it out.

Scorecard: 5 points for the James Beard noms, 2 for originality, 2 for working his way up through the kitchen. Total: 9 points.
>>For more Top Chef DC coverage, click here.
Subscribe to Washingtonian
Follow Washingtonian on Twitter
Follow the Best Bites Bloggers on Twitter at twitter.com/bestbitesblog
More>> Best Bites Blog | Food & Dining | Restaurant Finder