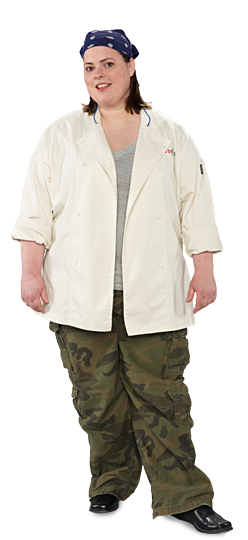 Age: 33
Lives in: Atlanta, but rocks an upstate-New York accent (she grew up in Shortsville, New York).
Job: Executive chef at Table 1280 at the Woodruff Arts Center. Simple dishes with just the slightest southern twang.
How she plans her menu: "Whatever I like to eat, my customers will eat," she says in a video on Bravo. There are two options for dinner: take it or leave it.

She bats: Righty and lefty. As in, she can cook both sweet and savory. Her first post-culinary-school job was as a pastry chef. In Top Chef world, pastry skills are like having a superhero power.
Known for: "Edgy desserts," as Atlanta Magazine describes them. Case in point: walnut spice cake with bay-leaf ice cream.
Report card: " . . . her cooking is as solid as cooking gets. In a city that boasts very few female culinary stars, that's actually saying something. Her training shows in every pristine bite; I just wish she'd let her hair down a little . . . "—Meredith Ford Goldman, Atlanta Journal-Constitution, on Table 1280 after Bloom took over.
Reminds us of: Jesse Sandlin from season six.
Scorecard: 2 points for versatility, 2 points for critical praise. Total: 4 points.


Age: 33
Lives in: Greenpoint, Brooklyn.
Education: Vassar, French Culinary Insititute, Sommelier Society of America.
Job: Owns the four-year-old Jacqueline Lombard Events, turning out all-organic fare for the fashion crowd (clients include Balenciaga and Jil Sander). Or, as she put it in Paper, "I get the beautiful people drunk."
And yet: Tells New York magazine that her favorite ingredients are "the three B's: butter, bacon, and beef."
Counters all that butter with: Pilates.
Big break: When Mario Batali, Lombard's then-boss at Otto (she worked in pastry) introduced her to Stella McCartney, she got a gig catering Fashion Week.
Reminds us of: A zanier Gwyneth Paltrow.
You may have seen her in: The dining section of the New York Times or Glamour, which put the press-savvy chef on its list of 70 Eco Heroes (She recycles! And composts!). She's also the dining editor of the New York Herald, where she last wrote a missive defending "pink" wine.
On the bright side: When making a grassfed rack of lamb for a YouTube video, she noted: "The lambs lived very happy lives. As I like to say, 'They only had one bad day.' "
Scorecard: 3 points for likeability, 2 points for camera-readiness, 2 points for wine knowledge, minus 2 points for time away from restaurant kitchens. Total: 5 points.

Timothy Dean

Age: 39

Lives in: Baltimore, but grew up in DC and went to Howard University.
Job: Somehow associated with the new Prime Steakhouse in Baltimore, where the motto is, um, "Do You Know Who's Handling Your Beef?"

Eerily channels former boss Roberto Donna because: The Bravo bio says he's chef/owner of Prime, but the Baltimore Sun has chronicled a weird string of events that possibly tie ownership to his college-aged daughter and point to him as an out-of-the-kitchen consultant. At one point, he said the owners were a "group of investors who don't want to be disclosed." He's supposed to open a restaurant in National Harbor, but plans are on permanent hold, thanks to a $17 million lawsuit.

In addition to financial issues, he's had to deal with: The loss of his wife to breast cancer three years ago.

Culinary climber: First kitchen job was as a dishwasher, and in an interview with the Sun's Elizabeth Large, he says his goals are on par with the accomplishments of Emeril Lagasse, Thomas Keller, and Wolfgang Puck.
Critics talk about: " . . . his considerable, occasionally thrill-inducing, skills and talent . . . "—Richard Gorelick in a Sun review of Prime in early April.
One reason for joining the show: "Padma is extremely, extremely sexy, and I wanted to see her in person."
His TV is tuned to: The Cosby Show and the Marc Clarke Show.
Reminds us of: Theo from the Cosby Show.
Scorecard: 1 point for being a local guy, 2 points for working with Jean-Louis Palladin at the Watergate, 1 point for ambition, 1 point for liking Bill Cosby. Total: 5 points.
>>For more Top Chef DC coverage, click here.
Subscribe to Washingtonian
Follow Washingtonian on Twitter
Follow the Best Bites Bloggers on Twitter at twitter.com/bestbitesblog
More>> Best Bites Blog | Food & Dining | Restaurant Finder