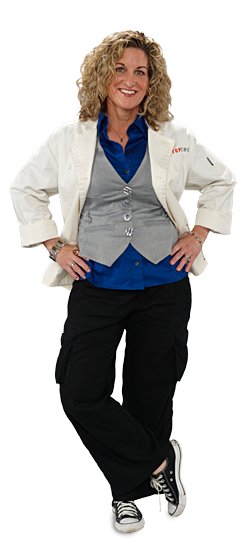 Age: 39
Lives in: Miami.
Job: Co-owns the eclectic neighborhood spot Talula with husband Frank Randazzo. Also oversees the kitchen at the Water Club, which seats more than 1,100 people, and runs a catering company. Mom to three girls, ages 3, 4, and 7.
Education: Graduated from Culinary Institute of America with honors.
You may have seen her in: Food & Wine—she was on the esteemed Best New Chefs list ten years ago.
How she describes her cooking: "My food doesn't do backflips on the plate . . . It's the kind of food that when you're done with it you need a piece of bread to sop it all up with."
Has a weakness for: Caviar and margaritas.
Hates: Eggplants, peas, and mock bacon.
Pop-culture tastes: According to Facebook, she's a fan of the Beastie Boys, Nirvana, Interview With the Vampire, and The Colbert Report.
Culinary hero: Alice Waters. "She was the first woman chef to look up to and appreciate."
How she describes her time on Top Chef: "It was an interesting experience. I would never do it again, never."

Advice she has for culinary students: "Watch fewer food shows."
Scorecard: 5 points for owning a restaurant, 2 points for toughness, 2 points for multitasking ability, minus 1 point for lack of excitement about the show. Total: 8 points.

Age: 32
Lives in: New York City, but was raised in Waltham, Massachusetts, outside of Boston.
Job: Executive chef at the recently opened Plein Sud, which serves traditional French bistro fare in Tribeca's Smyth Hotel.
Education: Culinary Institute of America. Grew up watching his dad—also a CIA alum and pro chef—at work.
Big-time chefs he's worked under: Todd English at Olives, who gave him his first gig in high school; Barbara Lynch at No. 9 Park in Boston. Spent five years working for Daniel Boulud at Daniel and DB Bistro Moderne. Briefly headed the kitchen at Veritas (according to Eater.com, he was fired), replacing Scott Bryan, and was last chef de cuisine at BLT Market under Laurent Tourondel.
You may have seen him on: Iron Chef America—he was Cat Cora's sous chef.
Looks up to: Guy Savoy. "He's a very well-known chef, and he is super-talented."
Not into: Molecular gastronomy. "I do respect it, and I'll even use a little of it," he tells BlackBook. "But as far as using powders and chemicals, I'm not a fan."
Likes to listen to: Fugazi, Janes Addiction, the Silversun Pickups.
Six degrees of Jean Louis: He tells his hometown paper, Waltham's Daily News Tribune, that one of his favorite memories is sitting around a table in Vegas with many famed chefs, including Jean Louis Palladin.
Scorecard: 8 points for the resume, 3 points for Iron Chef experience, 1 point for Fugazi shout-out. Total: 12 points.
>>For more Top Chef DC coverage, click here.
Subscribe to Washingtonian
Follow Washingtonian on Twitter
Follow the Best Bites Bloggers on Twitter at twitter.com/bestbitesblog
More>> Best Bites Blog | Food & Dining | Restaurant Finder