Age: 51 but looks about 37.
Lives in: Native of Philly, lives in Highland, New York.
Job: Assistant professor, Culinary Institute of America.
Also has experience as: Chef/owner of two restaurants and a catering business; consultant to Whole Foods; fish cook for Jean-Louis Palladin's restaurant Jean-Louis at the Watergate Hotel in DC; corporate chef to a collection of English-style pubs; and tournant (chef who can work all stations) at the Ritz-Carlton in Atlanta under Guenter Seeger.
Super-chef power: Baking certificate from CIA. Most cheftestants flounder in any pastry-making challenge.
Nasty streak: According to Facebook, her favorite quote is "Shut your pie hole," and she's the author of gofuckyourself.com. Also loves authors Tom Robbins and Carl Hiaasen. Looks like there'll be lots of bleeps this season.
The softer side: She enjoys reading, theater, classical music . . . and graffiti.
She'll do well if an episode sponsor is: Bisquick. She says she used to make recipes from the pancake mix as a kid.
Says she was inspired by: Carla Hall from season five. "I liked her energy," she says.
Reminds us of: The fierce attitude of Jennifer Carroll on season six, who once said she has made men cry in the kitchen.
Score: 5 points for her varied résumé, 2 for being well rounded, 2 for baking experience, 1 for feistiness, minus 1 for years away from the quick pace of a restaurant kitchen. Total: 9 points.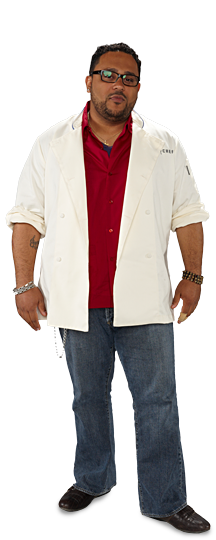 Age: 31
Lives in: Willingboro, New Jersey, his hometown.
Job: Executive chef at Rat's Restaurant—who came up with that name?—at the Grounds for Sculpture, managed by famed Philadelphia restaurateur Stephen Starr. Former director of Jose Garces's restaurant group in Philadelphia.
From his menu, we'd order: Quail with apple-and-beet purée, seared foie gras, and Jordan almonds; escabeche of olives with lemon, thyme, and pickled garlic; and halibut with artichokes barigoule, arugula, smoked chickpeas, and tomato confit.
Education: His father owned a bakery for 44 years, and Kevin spent lots of time there as a kid. Formal training at Johnson & Wales in Miami.
Take a look: Kevin participated in the Bocuse d'Or competition, and this blogger documented his every dish. He was awarded best meat dish in the semifinals.
Confidence level: Through the roof. Calls himself a "beast in the kitchen" and "the Barack Obama of the cooking game." Says he has unrivaled knife skills.
Likes to eat: Grilled cheese, French fries, spaghetti with tomato sauce, and roast pork with rice and beans. "It's all about the simple stuff, the tastes and flavors I grew up with. Comfort food."
Hates to eat: Canned peas.
Reminds us of: Mike Isabella, chef at Zaytinya, from season six.
Score: 5 points for Bocuse d'Or competition, 2 for tasty-sounding menu, 1 for liking grilled cheese and fries. Total: 8 points.

Age: 32
Lives in: Nashville.
Job: Owns three Nashville restaurants: the pan-Asian spots Suzy Wong's House of Yum and PM and the tapas bar ChaChah.
Craziest thing on his menu: Tempura-fried bison marrow at ChaChah.
Find out what he's eating: On Twitter. A recent update reads "In L.A. Haven't had bacon in two days. Have the shakes."
Hidden talent: He's a whiz with cocktails—last year he was a finalist in Bombay Sapphire/GQ magazine's Inspired Bartender Search.
Hidden talent #2: Used to be a pro figure skater.
Where he gets it from: His mom, who opened Nashville's first Asian market in 1975. Her parents owned a Bangkok grocery store.
Besides chef's whites, you might see him in: Drag. He's been known to dress up as literary character Suzie Wong—that would be the Hong Kong hooker—to promote his restaurant.
Facebook favorite quote: "She's so lucky, she's a STAR!" (Britney Spears)
Looking to buy him something? From his Web site: "I like sexy things like peas, mac & cheese, and cigars, massages are my savior, my shoes are my pets. . ."
Paging Sandra Lee: "I have this idea for 'party in a bag.' It's a one-stop shop for the ultimate cocktail party in your home. It's kind of like when you buy those duvet sets for your dorm room, but for a tablescape."
Scorecard: 7 points for being a triple restaurateur/chef, 2 for cocktail skills, 2 for boldness, minus 1 for considering peas sexy. Total: 10 points.
>>For more Top Chef DC coverage, click here.
Subscribe to Washingtonian
Follow Washingtonian on Twitter
Follow the Best Bites Bloggers on Twitter at twitter.com/bestbitesblog
More>> Best Bites Blog | Food & Dining | Restaurant Finder