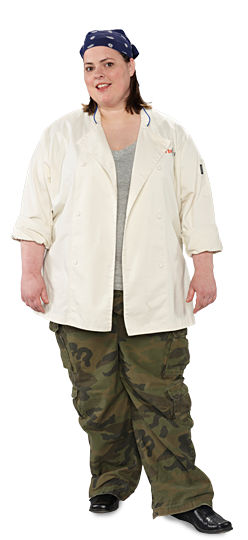 On this week's episode of Top Chef, the contestants faced a Quickfire challenge that made them rethink the old adage "easy as pie" and forced us to look at some of the most unappealing flavor combinations we've ever seen (bananas, peanuts, and celery?). Tracey Bloom was on the bottom with her singed blueberry-and-almond pie, and, alas, she stayed there during the Elimination challenge, a barbecue at Mount Vernon that featured a Top Chef specialty: grilled chef. When judge Tom Colicchio deemed her Italian-sausage slider burgers "insulting to Italians" (ouch), the Atlanta chef was sent home. We talked with her about thinking on her feet, what it feels like to be critiqued by the judges, and the inspiration she found in the school-lunch challenge.
>>For a recap of episode 3, click here.
Old-hand Top Chef viewers know that there's always a dessert challenge that trips up the contestants. Did you practice any desserts before going on the show?
"I did practice desserts before I left for the show, but pie wasn't one of them. I was a pastry chef ten years ago, so the Quickfire was kind of embarrassing. Unfortunately, I was acting like a chef and adding things to give flavor, not a pastry chef."
Do you usually talk to yourself in the kitchen?
"There was a lot of stress. I don't usually talk to myself, but I was having a bad day and trying to lighten the mood."
Had you really never used a charcoal grill before?
"I had used a charcoal grill but never in that capacity. I had never done well. It might've seemed like I was making jokes, but that grill was too hot!"
You had to switch plans for your sausage mid-way through because of time. Did you feel like you had a reasonable fix for the problem?
"I intended on making sausage links, and when that wasn't possible, I made it into a slider. I thought I was thinking on my feet. And I enjoyed my dish. Tom's comments were hard to swallow. It's humiliating to be in the bottom—you feel vulnerable for sure. But it was easier listening to it on TV last night than standing in front of them. Editing did good things for me."
What did you think of the other food served that day?
"Stephen's fish was good. And Amanda's ribs were really freaking good!"
You seemed to get emotional during the school-lunch challenge. Have you thought about it since leaving the show?
"My girlfriend and I have changed our eating habits, we've joined a gym, and made a pact not to take [her girlfriend's son] to eat fast food."
What will you take away from your experience on the show?
"I learned not to take everything so seriously, to prioritize, and that I don't always have to be the best. I'm proud of how I handled [leaving]. I was real. I represented myself, and I didn't try to be a character. I have a lot of fun in life and it came through on the TV show. The biggest highlight was forming relationships with the other chef-contestants. Those people are like my brothers and sisters. Every time I think of them I tear up."
>>For more Top Chef DC coverage, click here.
Subscribe to Washingtonian
Follow Washingtonian on Twitter
Follow the Best Bites Bloggers on Twitter at twitter.com/bestbitesblog
More>> Best Bites Blog | Food & Dining | Restaurant Finder